February 28, 2010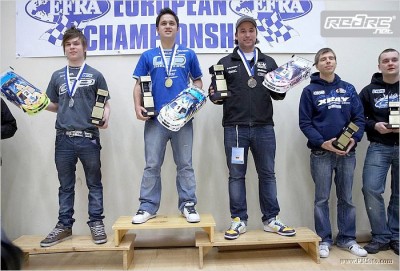 Team Yokomo/LRP factory driver Ronald Völker took the European title following the first two A-main legs and so chose to sit out and watch the last final. With Ronald absent from the starting grid it gave Christer Andesson the virtual pole position and a clean track ahead of him and was  followed by Alexander Hagberg but his car seemed a little loose and difficult right from the start. Marc Rheinard was pushing him hard for many laps and made an awesome pass at the front chicane to take second place. This battle allowed Andersson to drive his own race and pull a gap, but Marc did his best to catch up.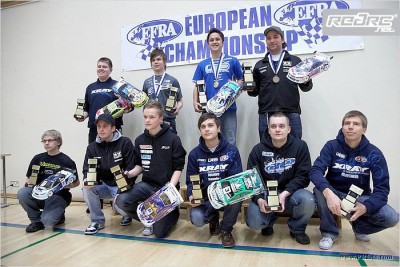 Behind the leaders, the second group was also close with Hagberg still in 3rd, followed by Wilck in 5th, Levänen 6th and Leino 7th. First one making a mistake this time was Levänen who crashed at high speed loosing himself places as those behind went past. For the last 3 minutes these 3 cars went nose to tail making the fastest laps of final. At the end Leino tried to pass Wilck, but they touched and he choose to stop and wait for Wilck to recover. Therefore Hagberg managed to get some breathing room. At the end of the final it was Andersson that took the win, Rheinard second and Hagberg third.
With Ronald Völker taking the title, this final leg win gave Christer Andersson 2nd at his home track for Team Associated/LRP while Marc Rheinard ended 3rd overall. Before the finals it seemed as though Alexander Hagberg could fight for a podium place, but somehow faded a little and ended the race in 4th overall in front of Juho Levänen. Teemu Leino Team came from bad qualifying place to take the 6th spot in front of Victor Wilck.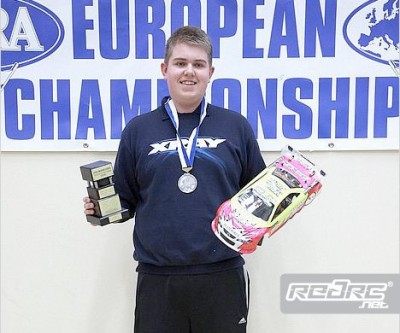 Behind Christopher Krapp brought his Kyosho/Orion car home in 8th place as Adrian Berntsen finished his first Euros A-final in 9th and took the Junior European title along with it. Viljami Kutvonen was strong all weekend and was using the same new Yokomo car with LRP electronics like Völker but unfortunately he was not able to keep it together in finals but he must be happy for making his first European A-main.
Final overall results
1. Ronald Völker (DE) – 2pts [1,1,10] – Yokomo/LRP
2. Christer Andersson (FI) – 3pts [6,2,1] – Associated/LRP
3. Marc Rheinard (DE) – 4pts [2,7,2] – Tamiya/Speedpassion
4. Alexander Hagberg (SE) – 6pts [5,3,3] – Xray/LRP
5. Juho Levänen (FI) – 7pts [3,4,7] – Associated/LRP
6. Teemu Leino (FI) – 9pts [4,6,5] – Xray/Team Orion
7. Viktor Wilck (SE) – 9pts [10,5,4] – Tamiya/Speedpassion
8. Christopher Krapp (DE) – 14pts [9,8,6] – Kyosho/Team Orion
9. Adrian Berntsen (NO) – 16pts [7,9,9] – Xray/LRP
10.Viljami Kutvonen (FI) – 16pts [8,10,8] – Yokomo/LRP
Full results can be found on the official event site here.
[youtube]http://www.youtube.com/watch?v=5K2JMmxb3ko[/youtube]
Thanks to Teppo Kauppinen for the report. Images: PR Foto [prfoto.com]
---