February 26, 2010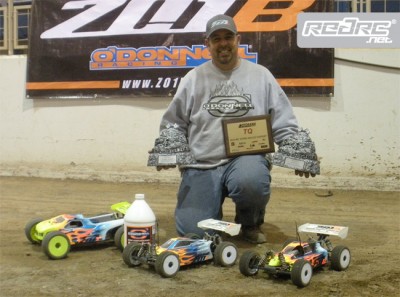 Just as they did last year, the O'Donnell Team came into Motorama in Harrisburg, PA with something to prove. This time it was with three new cars, the Z01-B SG, Z01-T SG and the Z01-E. On-road legend and team driver Barry Baker was also out to prove that he could run with some of the best off-road drivers in the country.
Electric 1/8 Buggy
Baker went out in the first round and set a blistering pace, taking the TQ for the round. When all the rounds were finished and the qualifying points were tallied, Baker ended up second overall. In the main, however, Baker had other plans — he took the early lead and never looked back. The brand new Z01-E never missed a beat either, proving that it will be a car to reckoned with. Baker also used the Team Checkpoint 5000 / 40c LiPo racing packs to provide the juice needed to take the win.
Nitro 1/8 Pro Buggy
Disappointed with his second qualifying spot in electric buggy, Baker laid the smack down and proved to everyone that on-road drivers can drive off-road. Besides the excellent drive by the "Fabulous One", the Z01-B SG was extremely impressive in its national debut, taking the overall TQ in the premiere class. Unfortunately, a few miscues in the main event dropped Baker back to a sixth place finish.
Nitro 1/8 Pro Truggy
If other drivers don't know this by now, the last thing you want to do is motivate Baker, all it does is make him drive harder and faster, and that's what he did in the truggy main event. The first half of the race saw an epic battle between Baker and Jason Ashton, some people even stated it was one of the best races they ever saw. After Ashton had a slight issue, Phillip Atondo was there to pick up the slack and another epic chase began. In the end, the "Fabulous One" took the win in pro truggy.
Source: O'Donnell [odonnellracing.com]
---