February 13, 2010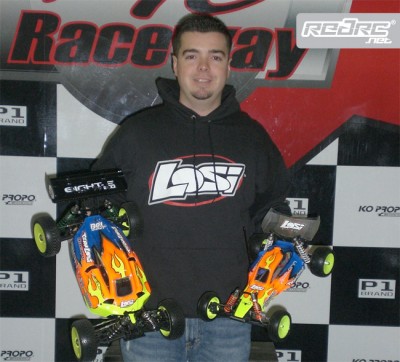 Team Losi Racing have announced the signing of Frank Root to their off-road racing team for 2010. Frank's vast racing experience, impeccable driving talent and superior public relations will be an excellent asset to their organization. Frank's recent successes include 2008 & 2009 JBRL 2wd and 4wd Off-Road Champion, 2009 NORCAL Championship in 2wd and Truck and Multi-time ROAR National, Cactus Classic and Hot Rod Hobbies Shootout A-main finalist. Frank had the following to say:
I am really excited for this amazing opportunity with Team Losi Racing and Horizon Hobby.  I would like to thank Kevin Gahan, Adam Drake, and Mike Truhe for helping make this opportunity come to fruition.  I am anxiously looking forward to the Nitro Challenge and Cactus Classic to make my debuts with the Team Losi Racing cars and run with my new Losi teammates! I want to thank everyone from Team Associated for all of the support over the past several years.  I have had a great span with Team Associated, Brent Thielke, Kurt "Coach" Wenger, and all of my teammates at Team Associated.  I would like to give a big thank you to Jason Ruona from J-Concepts.  As my first real sponsor, Jason and J-Concepts were very influential in my success in my racing career.
Frank will be competing this year in the electric off-road classes with his Team Losi Racing XXX-CR, XXX-T CR, 8ight-E 2.0 and XXX-4 Graphite Plus and all will be powered by Xcelorin speed controls, batteries, and motors. Frank will also compete at the nitro events with his Team Losi Racing 8ight 2.0 and 8ight-T 2.0 powered by Nitrotec Engines and Nitrotane Fuel. All vehicles will be exclusively equipped with Team Losi Racing tires.
Source: Losi [losi.com]
---