February 23, 2010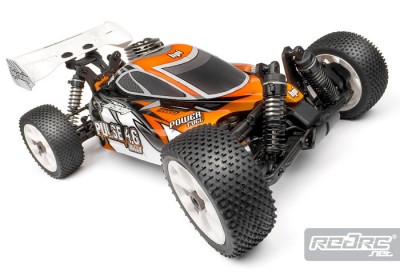 Fitted with the extremely powerful K4.6 high output engine from the Savage X 4.6, full racing suspension and a complete set of grey-anodized aluminium parts, HPI introduces the Pulse RTR buggy. Completely outfitted with all the specifications, parts and tuning capabilities of much more expensive racing buggies, but it's available to you at a competitive price, completely assembled and ready to go. The Pulse buggy was designed from the start to bridge the gap between entry-level RTR kits and the crazy expensive full racing kits that include no running gear and must be built to precise specifications. What that means is you get a fantastic Premium RTR buggy with top-quality materials and the ability to race with the big dogs, all with RTR convenience and a great price. Every part in the car was designed to be the highest quality and give the best performance on the track.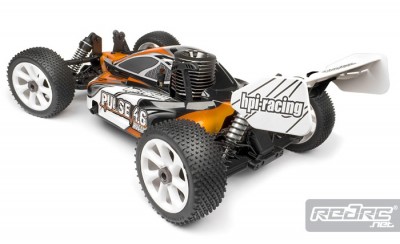 Chassis features
– 3mm chassis made from 6061 gunmetal anodized aluminium, deep countersunk screws and sturdy dirt guards.
– 6061 aluminium radio tray, middle deck, and front deck for light weight and great looks.
– Composite chasis braces connect to radio tray to reduce weight and eliminate flex from the suspension.
– Hex hardware throughout for easy rebuilds and less hassle than normal Philips head screws.
– Low centre of gravity design for increased confidence in the bumps and better handling in the turns.
– Large flywheel opening allows rocks to exit chassis and extra-easy starting with any off-road type starter box.
– Sealed & padded battery & receiver box with sealed radio switch.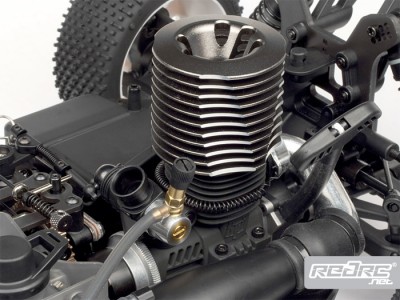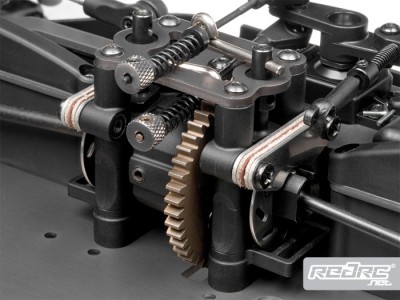 Drivetrain features
– Easy-access diff cases allow you to get straight to each diff with minimal interference so you can swap out diff oils and tune the car's drivetrain directly.
– Front universals get the power from the diffs to the wheels smoothly and with no loss of power. At the rear and in the centre of the car are heavy duty dogbones to handle the delivery of power to all four corners.
– Front and rear adjustable vented steel disc brakes with extra-powerful fibre brake pads give you short stopping distances with maximum control.
– Full rubber-sealed ball bearings for minimal maintenance and smooth power delivery.
– Cool white, amazing-looking Turbine design wheels with 17mm hex hubs fitted with race-ready soft compound mini-pin Trekker tyres with moulded inner foams.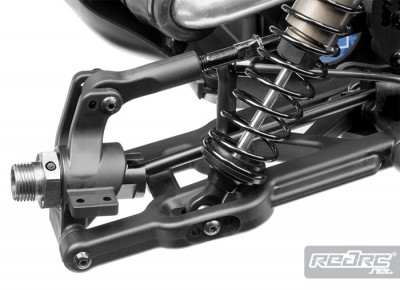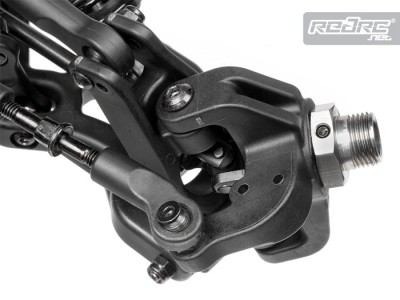 Suspension and Steering features
– Proven race geometry with championship-inspired design. The zero kingpin 'inverse angle block' design is a definite winner, and out on the track it will give you the confidence you desire as you go head to head against the club pros!
– Extra-strong race-engineered suspension arms are designed with the optimal balance of strength and flex to tackle the most demanding racing tracks and racing drivers!
– The front shock tower is 7075 aluminium for extra durability and increased reliability. The rear shock tower is 6061 aluminium, anodized the same cool gunmetal grey.
– 15mm dia large bore shocks handle the bumps and jumps, soaking up everything you throw the Pulse at. With a 6061 aluminium body, o-ring seals and thick shock shafts you know your tyres will be stuck to the ground when you need traction and control.
– Strong steel turnbuckles with chunky gripping points for easy adjustment of camber and front toe.
– Extreme steering angle for tons of steering – there's no other buggy with as much steering angle!
– Extra-strong 6061 aluminium steering link with 3 adjustment holes gives you confidence that you won't lose control, and the extra adjustments let you fine-tune the Pulse buggy to your driving style.
– You also get an integrated servo saver with an easy to reach knurled aluminium adjustment nut.
– High torque, powerful metal gear servo factory-fitted for increased reliability when you need it most.
– Swaybars fitted for zero chassis roll in tight turns: 2.5mm front, 3mm rear
– No e-clips anywhere! The Pulse uses strong steel hex-head screws with locknuts to secure the suspension in place.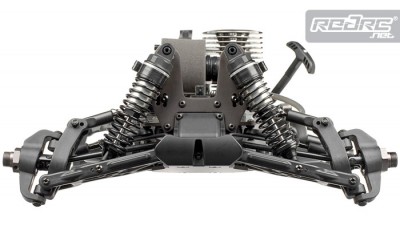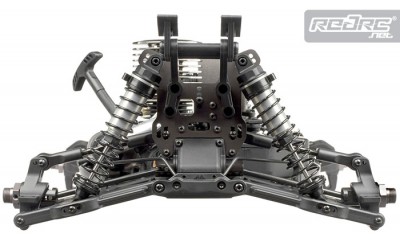 Source: HPI [hpieurope.com]
---