February 26, 2010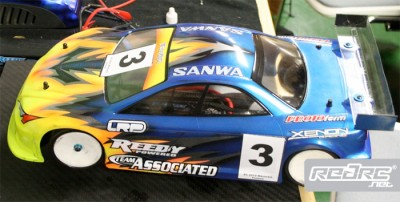 The second day of the Indoor Touring Euros 2010 is underway and their is a new timetable with 2 extra rounds of timed practice followed by first 2 rounds of qualifying. Some reseeding was done overnight to give everyone the best possible heat and it was Team Associated that had the best morning runs with Christer Andersson and Juho Levänen taking the top spots. Marc Rheinard had his best run so far and ended up in 3rd, with Alexander Hagberg in 4th and Ronald Völker 5th. The track is still pretty loose and grip has yet to come up as well as all thought yesterday.
Ronald Völker drove the fastest run of the second round with his LRP powered Yokomo, while less than a second behind was Xray/Team Orion driver Teemu Leino, who made the fastest single lap of the day. Teemu told that he is still suffering from a little understeer, but that the car feels stable. New names who made their way to the top was newly crowned Norwegian Champion Adrian Berntsen and Yokomo driver Viljami Kutvonen.
During the third round of timed practice Xray team mates Alexander Hagberg and Teemu Leino were clear out in front with the Swede, the only driver in the round to make 25 laps. Many of the top drivers had trouble to get clean runs and this could be due to the grip levels starting to build up and so the cars start to roll. Viljami Kutvonen put in another solid run and came up to 3rd before just ahead of the German pairing of Christopher Krapp and Steve Weiss in 4th and 5th respectively. Christer Andersson put in the 6th fastest run with a softer setup on his TC5.
Timing and results can be found on the official event site here.
Thanks to Teppo Kauppinen for the report.
---