February 8, 2010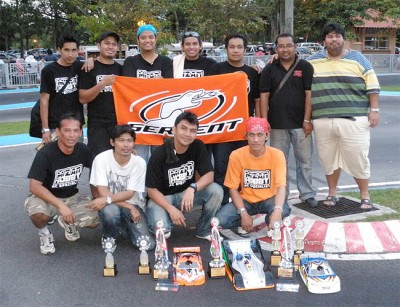 It was perfect conditions here at the 1st Round of the hotly contested annual Malaysian National Championship held at the Taman Titiwangsa International Track organised by RCAC. This is the first stop out of the 4 rounds held throughout Malaysia and what a way to start it off by having it held right in the Capital of Malaysia, Kuala Lumpur. It was a huge turnout with more than 50 drivers participating in the event which includes 1/10th 200mm 'Expert' and 'Novice' class and 1/8th Scale. Weather and track conditions perfect, drivers and pit crews eager to start off the race and not forgetting the spectators which was slowly building up at the track.
After the race briefing by the organisers, the qualifying heats followed and in the 1/10th 'Novice' class, it was Serpent Driver Afique, who made a perfect 1st Heat (17 laps 5:02:915) which proved hard to beat and manage to grab TQ honours by running just 2 out of 3 heats. In the finals, Afique overturned at turn one after the start, and dropped to 6th place with Joe Hyreel, driving a Mugen, to take over the lead. But with consistent and minimal fault driving, Afique managed to recover and clinch back the top spot. After 25 minutes, it was Afique who came up tops followed by Joe Hyreel (Mugen) a lap behind and DR Seng in third position.
It was almost the same story in the 1/10th 'Expert' class, where Malaysia's top driver and reigning 2009 MNC 1/10th 200mm Champion, Mizan driving a Serpent 733 clocked an unbelievable run of 18 laps in 5:00:016 in his first heat. That timing proved too much for the competitors and Mizan grabbed the TQ honours also running 2 out of 3 heats, followed by his closest rival Baharudin (Xray) and Eric Siow (Xray). In the finals, Mizan maintained top position but was followed closely behind by Baharudin. Both drivers showed speed and desire to win and managed to open a gap from the others. The hot battle went on for the opening 20 minutes, but with almost perfect driving and pit strategy, Mizan managed to open up a gap in front of Baharudin and finally won the race comfortably by a total of 6 laps.
But it was a different story though in the 1/8th class. It was Badrul who took TQ honours (19 laps 5:02:108) on his 3rd and final heat showing blistering pace in his Sirio powered Kyosho Evolva M3 after an incident packed first two heats with Andak (Mugen) and Ben Siew (Mugen) taking 2nd and 3rd spot respectively in the final grid. The 1/8th finals have always been the most anticipated and exciting races and it sure didn't disappoint. After the start, Badrul managed to hang on onto the top spot until he earned a 'Stop-go' penalty for refuelling on the pit lane. Race lead was taken over by the ever-fast Ben Siew in his JP powered Mugen MRX4-X. He led almost throughout the whole race. But as usual, there's always a twist in the tale. Zack, driving a Serpent 966, managed to work himself up to 2nd position from 6th on the starting grid and within reach of the top spot. A combination of faultless driving and brilliant pit strategy, Zack managed to pip Ben Siew in the last 3mins with Ben needing to refuel in order to finish the 45 minute race! It was a huge surprise to all as Zack, who came out of a long break, managed to win in his first race of the year. Final positions are in first place Zack (Serpent 966) followed by Ben Siew (Mugen MRX4-X) and Haji Jusri (Serpent 966) respectively.
It was a great race in the end of the day without any technical or weather problems. And it sure turned out to be a Serpent clean sweep at the Malaysia National Championship 1st round. Stay tune for updates on the 2nd round which will be held at the Excellent Speedway track at the Northern State of Kelantan in March. That's all for now folks.
Source: Team Serpent Malaysia
---