February 27, 2010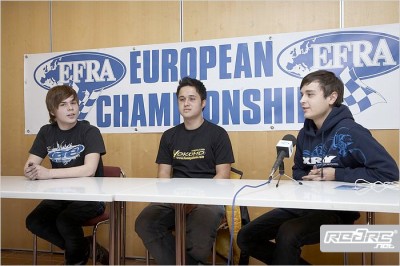 Third day and qualifying are finally over. The 4th qualifying round was again a one man show as Ronald Völker continued to dominate again. He must be happy with his Yokomo´s setup and has good traction additive as he always starts with the fastest laps as others need to run couple of laps to find grip before putting in their quick lap times. The pace he showed during these runs was so much faster than anyone else that only 2 drivers could beat his average lap time on their fastest laps. Völker was also fastest in the 5th round and took the overall TQ even though he crashed and tweaked his car on the last round.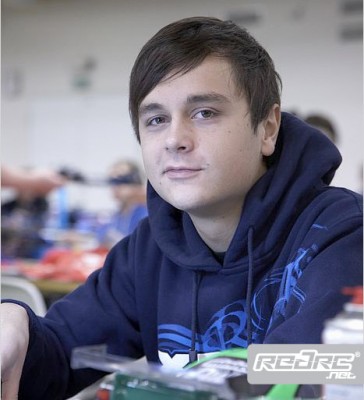 Christer Andersson took second place overall even though he has been making more mistakes during the last rounds of qualifying. He was close to Völker on the first day of qualifying but faded little by little from Völkers pace nearer the end. Alexander Hagberg put in some solid runs in every round and got his Xray car working  really well during the last 2 rounds. He took second place points from each round moving up to 3rd overall. He chose for softer shock oils to find better traction on the semi loose track conditions and it worked out great. He has got a good chance to fight for a podium finish.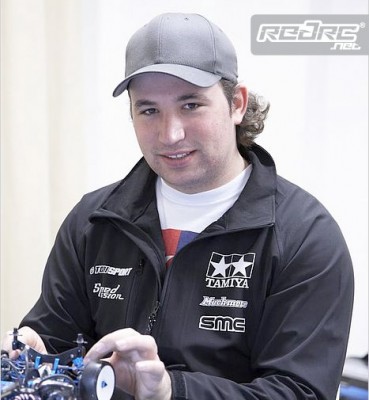 Team Tamiya's Marc Rheinard had 2 bad runs on the last rounds but strong points from yesterday and this morning put him 4th overall just in front of Victor Wilck, whose car looked either really fast or really bad during qualifying. He told us that an bad set of tyres were giving him problems and ruined some of his fast runs. When he was doing good, he had the speed and we can expect that he will have a chance to make it to the podium tomorrow. Juho Levänen took 6th overall, he didn't have the fastest lap times but didn't make any mistakes either. He also had some tyre problems, but managed to improve on last rounds and we have to see tomorrow if he has the pace required to make it to the top.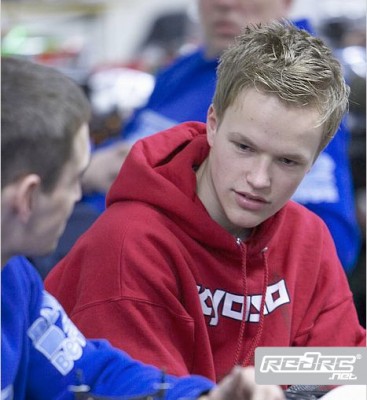 Another Yokomo, that of Viljami Kutvonen, looked really good from the first day and took his ride into the A-main without problems. Christopher Krapp surprised many by placing his Kyosho into tomorrow's main event final without looking really good all day. Teemu Leino looked to be one of the fastest on every timed practice, but didn't get it together on any qualifying runs. At the end he found more grip to his understeering Xray T3, but made some mistakes on his best heats. He was doing really good on the last round of qualifying but a poor starting place will hurt his A-final performance for sure. Norwegian driver Adrian Berntsen looked really smooth on track and had one of the best corner speeds on his Xray car. He'll take the 10th and final place in the A-main tomorrow. Adrian took the most sympathy points as he had to walk with sticks because he had hurt his leg before the race. Steen Graversen took the unlucky B-final top spot, but there was a big gap between him and Berntsen on points.
So that's it from qualifying. We can expect some tough finals tomorrow on this fast and flowing track where passing will be really difficult.
Top 10 qualifiers overall
1. Ronald Völker – Yokomo/LRP
2. Christer Andersson – Associated/LRP
3. Alexander Hagberg – Xray/LRP
4. Marc Rheinard – Tamiya/Speed Passion
5. Viktor Wilck – Tamiya/Speed Passion
6. Juho Levänen – Associated/LRP
7. Viljami Kutvonen – Yokomo/LRP
8. Christopher Krapp – Kyosho/Team Orion
9. Teemu Leino – Xray/Team Orion
10.Adrian Berntsen – Xray/LRP
Full results can be found on the official event site here.
[youtube]http://www.youtube.com/watch?v=ZC1W234DbBM[/youtube]
Thanks to Teppo Kauppinen for the report. Images: PR Foto [prfoto.com]
---