February 28, 2010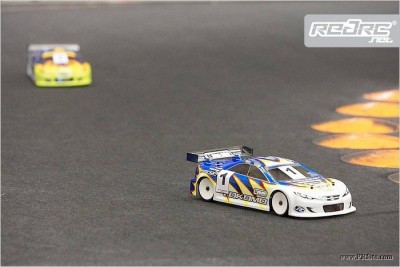 The first A-final of the day at the Indoor Euros in Finland included some close racing but also many mistakes. Ronald Völker started from pole position with some fast laps, while behind, some small mistakes from both Christer Andersson and Alexander Hagberg let Marc Rheinard through to take the second place. Marc looked more serious this time and didn't allow Völker to run away with it, keeping the gap at one second for most of the race with both driving a clean final.
After some early mistakes from Hagberg and Andersson it was Juho Levänen who took 3rd place followed by Andersson and Teemu Leino who came all the way up from 9th starting place. Viktor Wilck looked good at middle run but made a big mistake coming to back straight and had a high speed crash by himself, put him back. Team mates Andersson and Levänen had some really close racing, keeping their lines tight until Andersson  finally gave Juho a little push and went by. No penalty was given to Andersson and Leino took 4th as Levänen recovered to 5th place ahead of Hagberg, who was making a hard charge after his early mistake.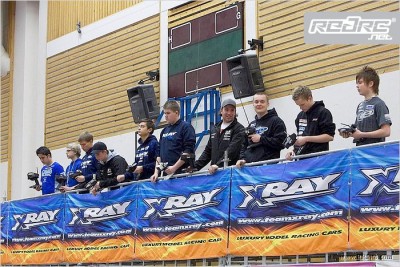 Andersson started to make some small mistakes and this allowed Leino to close up. As Andersson ran wide coming to the back straight Leino went by, but Andersson didn't give up and the pair touched sending both cars into wall and allowing Juho Levänen to take 3rd place at the end. Again no penalties. Leino made his way back to 4th, Hagberg 5th and Andersson 6th with broken upper deck resulting from his crash into the wall.
Results A-main Leg 1
1. Ronald Völker – 24 Laps in 5:05.667
2. Marc Rheinard – 24 Laps in 5:06.978
3. Juho Levänen – 23 Laps in 5:01.824
4. Teemu Leino – 23 Laps in 5:02.445
5. Alexander Hagberg – 23 Laps in 5:02.958
6. Christer Andersson – 23 Laps in 5:03.468
7. Adrian Berntsen – 23 Laps in 5:04.562
8. Viljami Kutvonen – 23 Laps in 5:04.936
9. Christopher Krapp – 23 Laps in 5:06.291
10.Viktor Wilck – 23 Laps in 5:11.986
Full results can be found on the official event site here.
Thanks to Teppo Kauppinen for the report. Images: PR Foto [prfoto.com]
---