February 7, 2010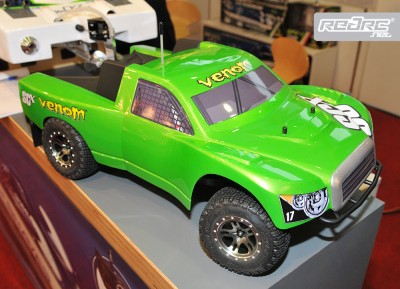 Australian manufacturer Venom were also making their debut at the fair and were making a big splash with their new releases that include the all new SCX short course truck. This completely new platform is being shown in its pre production form but when it goes on sale, will be completely ready to run with a basic 2.4Ghz radio system, speed controller and beadlock tires. A neat feature of the car is the fact that you can easily change it between a rear and mid motored car, the latter expected to be the default when it goes on sale.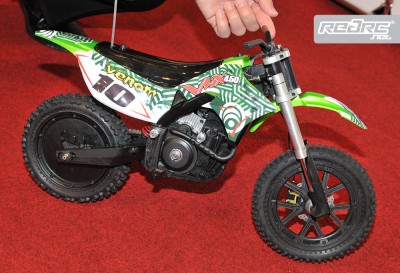 Another new product shown for the first time is the VMX 1/4th scale dirt bike which is still in its prototype form. This great looking bike has a unique trap door style locking battery compartment that will accommodate many different battery packs from NiMH to LiPo. To top it all off, a highly detailed Neocell foam rider figure completes the package, the original of which was on show and has been hand sculpted, taking 80 hours to complete. Supplied with the latest VR3T 2.4Ghz 3ch fully programmable radio system and V Series 540 class brushless system puts the power to the ground via the miniature steel roller chain. The rear wheel features a patent pending highly adjustable gyro that enables the VMX to stay upright at slow speeds. The innovative design centers the gyro mass to give the VMX balanced control and can be adjusted to suit drive styles and track conditions.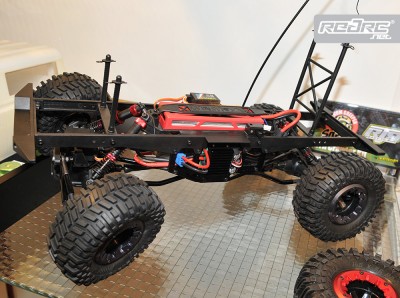 Also on display was the Safari Creeper, a ready to run rock crawling platform with ladder chassis that is perfect for first time crawlers while still possessing all the great features of the company's original competition Creeper kit. Supplied with the DIG unit pre-installed and powered by a powerful 35T 550 brushed motor. New body mounting posts are included to allow you to mount almost any body along with front and rear bumpers to complete the scale realism. Keeping with the crawler theme Venom also had their beadlock wheels and tires on display which have the ability to be loaded with weights to bring each wheel up to 1lb for fine tuning the crawlers performance.
---