February 22, 2010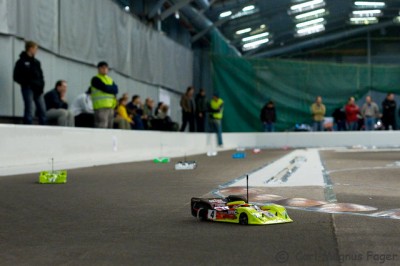 Finnish indoor season on road nationals aka FinTrack Tour continued at Southern Finland at the city of Tampere last weekend. The venue was a huge sport hall with several separated game fields for indoor games. Due to recent cold weather conditions, the hall was pretty cold inside, only about 12-14C degrees during the day as it was -25C outside with blowing wind making it feel like -50C. The track was pretty bumpy due to plastic carpet on the hall floor which had stretched during the years but the layout was good for 1/12 with lots of technical corners and not so high speed as TC tracks usually are.
The race day started with 2 rounds of timed practice, followed by 4 rounds of qualifying and triple A mains and double mains for everyone else. Most of the top racers were attending the race with former Euro Champ Simo Ahoniemi leading the list including multiple national champion and Euro's A finalist Teemu Saarinen, multiple national champion from nitro TC Tony Raikas, national champion and top driver Pekka Koivula with most of the top modified TC drivers like Viljami Kutvonen, Nordic champion Matias Kuusinen and many more.
In free practice it was Simo who set the pace with laptime as track was getting faster in every run followed closely in lap times by Vesa Yli and Teemu Saarinen. In qualifying Vesa started fastest and TQd the first round by few seconds. The next 3 rounds were also dominated by Vesa who took TQ after 4 rounds by winning every qualifying round. Simo was in 2nd place, followed by Pekka Koivula and Teemu Saarinen with Viljami Kutvonen taking 5th with his CR3.0 with Panu Vehniäinen in 6th also with his Carpet Ripper. Joni Minkkinen joined the A main also with his Carpet Ripper which made it total 4 out of 10 cars in A final! Tony Raikas, Tom Kalves and Matias Kuusinen were the names to fill the rest of the places in A main grid, although not in that order.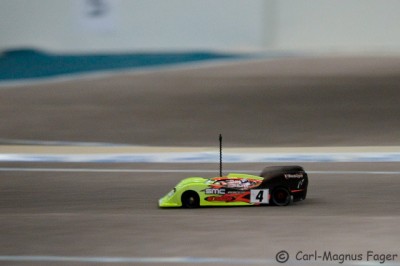 In the first final Vesa took the lead from pole and lead from start to finish followed by Pekka with Viljami taking 3rd and Panu in 4th. That made 3 CR cars in top 4 which is best ever final for the CR at the Finnish nationals. In the second final Vesa took a comfortable lead after the start followed by Simo who tried to catch but couldn't get close enough to try overtaking so Vesa took the win at the race! Panu and Viljami were bit unlucky in second final but made about 5 & 6th place pretty easy after having crashes.
As Vesa had already won the race, he didn't race the last final and this allowed Pekka Koivula to take the last final win which gave him 2nd place followed by Simo in 3rd.
A-Final results
1. Vesa Yli – 2pts [1,1,10] Carpet Ripper
2. Pekka Koivula – 3pts [2,3,1]
3. Simo Ahoniemi – 6pts [9,2,4]
4. Tony Raikas – 7pts [6,5,2]
5. Teemu Saarinen – 7pts [5,4,3]
6. Viljami Kutvonen – 8pts [3,6,5] Carpet Ripper
7. Panu Vehniäinen – 13pts [4,10,9] Carpet Ripper
8. Matias Kuusinen – 13pts [7,9,6]
9. Tom Kalves – 15pts [8,8,7]
10.Joni Minkkinen – 15pts [10,7,8] Carpet Ripper
Now after 2 rounds of nationals it is Vesa who is leading in championship points before Simo Ahoniemi. The next round of the nationals will be run in week 11 in Norhern Finland in the city of Oulu.
Finnish 1/12th Mod Nationals after 2 rounds
1. Vesa Yli – [90/100] 190pts
2. Simo Ahoniemi – [100/82] 182pts
3. Tony Raikas – [72/76] 148pts
4. Teemu Saarinen – [76/72] 148pts
5. Tom Kalves – [82/60] 142pts
6. Viljami Kutvonen – [66/69] 135pts
7. Panu Vehniäinen – [57/66] 123pts
8. Matias Kuusinen – [54/63] 117pts
9. Jarno Siltanen – [60/54] 114pts
10.Miika Laurila – [63/42] 105pts
Source: V-Dezign [v-dezign.net]
---