March 7, 2010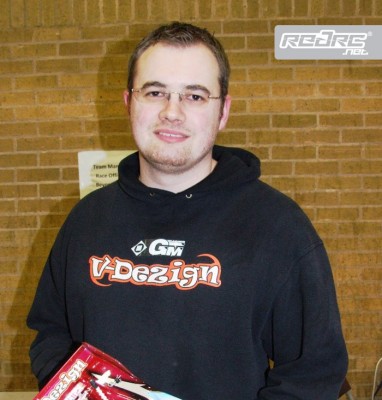 Four minute practice finals preceded the real business of deciding who would leave Hinckley with the title European 1:12 Champion in their back pocket. First of the A finals was the Spec Stock class, could Chris Kerswell carry his qualifying performance on the finals or would be the pressure of previous Euro champions lining up behind prove too much.
The top five made a clean getaway and Kerswell controlled the early laps while others battled behind. A crash from Fisher saw him drop back and Andy Moore took up the chase of Kerswell, but then the Hot Bodies driver made a mistake, by that point Chris had the length of the straight. Drama as Andy Moore left the fray at six minutes. Markus Mobers kept out of trouble to follow Chris over the line as the V-Dezign driver took leg one ahead of Mobers, a recovering Marc Fisher took third ahead of Keith Robertson and Mark Stiles.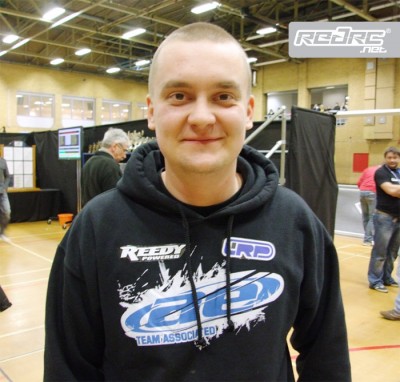 In modified all eyes were on the front two as Levanen led from pole, Jefferies dropped back to fifth allowing Simo Ahoniemi to chase the two leaders. Ronald Volker got past Juho at the mid point and looked to be in control, but like in qualifying there was not enough in the tank and dramatically Juho drove past Ronald as the Yokomo driver slowed on the last lap. Leg one to Juho, Simo completed the podium in leg one with Marc Fisher and Olly Jefferies completing the top five.
Spec class A-main leg 1 results
1. Chris Kerswell – 35 laps in 8m 1.46
2. Markus Mobers – 35 laps in 8m 2.64
3. Marc Fisher – 35 laps in 8m 3.70
4. Keith Robertson – 35 laps in 8m 8.31
5. Mark Stiles – 34 laps in 8m 4.29
6. Mick Farrell – 34 laps in 8m 4.53
7. Olivier Bultynck – 34 laps in 8m 9.48
8. Vesa Yli – 34 laps in 8m 9.81
9.Simon Rubet – 34 laps in 8m 14.30
10.Andy Moore – 34 laps in 6m 16.87
Modified A-main leg 1 results
1. Juho Levanen – 37 laps in 8m 5.62
2. Ronald Volker – 37 laps in 8m 6.20
3. Simo Ahoniemi – 36 laps in 8m 1.57
4. Marc Fisher – 36 laps in 8m 2.04
5. Olly Jefferies – 36 laps in 8m 2.96
6. Andy Griffiths – 36 laps in 8m 4.77
7. Elliott Harper – 35 laps in 8m 0.34
8. Alex Hagberg – 35 laps in 8m 9.51
9. Chris Kerswell – 34 laps in 8m 0.79
10.Vesa Yli – 29 laps in 6m 39.52
---