March 7, 2010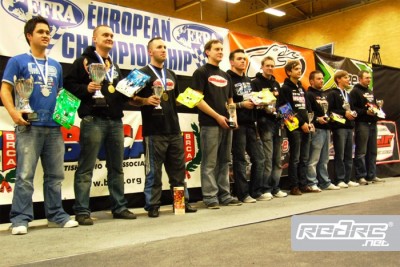 After the drama of the previous finals the final leg of the Modified A final, it was a rather processional affair. Juho Levanen led from start to finish to win ahead of Ronald Volker, with Olly Jefferies third. This result gave Juho the EFRA 1/12 modified crown and a worthy winner after dominating qualifying. Ronald Volker was the runner up with Marc Fisher third.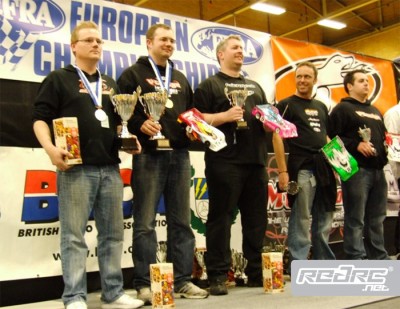 The final leg of the Pro Stock Spec A final and it was calculators at the ready as everyone worked out the permutations, the most simple formula for Chris Kerswell was to get away and lead from the front, which was what he did for three minutes until an error let Andy Moore through, as Andy was not in the hunt for the title all eyes were still on Kerswell who had Fisher on his tail for the remainder of the final. To a massive cheer from the partisan crowd Chris Kerswell crossed the line in second place giving him the EFRA European Pro Stock Spec title, Andy Moore cured his duration problems to take the third leg, Fisher was third in the final with Markus Mobers fourth and Keith Robertson fourth. This result left Kerswell as champion from Markus Mobers in 2nd and Keith Robertson completing the EFRA podium in 3rd.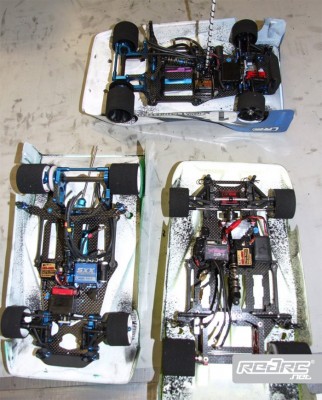 Modified overall results
1. Juho Levanen – Finland
2. Ronald Volker – Germany
3. Marc Fischer – Germany
4. Simo Ahoniemi – Finland
5. Olly Jefferies – Great Britain
6. Andy Griffiths – Great Britain
7. Alexander Hagberg – Sweden
8. Vesa Yli – Finland
9. Elliot Harper – Great Britain
10.Chris Kerswell – Great Britain
Pro Stock overall results
1. Chris Kerswell – Great Britain
2. Markus Mobers – Germany
3. Keith Robertson – Great Britain
4. Marc Fischer – Germany
5. Andy Moore – Great Britain
6. Mick Farrell – Great Britain
7. Mark Stiles – Great Britain
8. Simon Rubet – France
9. Olivier Bultynck – Belgium
10.Vesa Yli – Finland
Full results can be found here.
---