March 4, 2010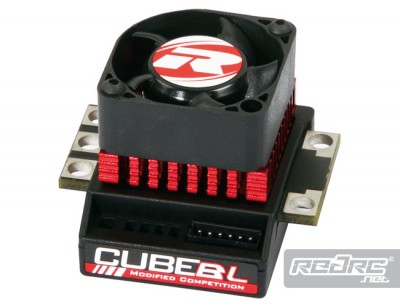 Robitronic have released their all new Cube BL Modified Competition brushless speed controller, which boasts unprecedented throttle and brake control together with great current handling capabilities in a small sized package. The Cube's impressive specs stem from it's state-of-the-art power mosfets on a cutting edge pcb-design that takes its power handling straight up to what is technically feasible, driving even the hottest motors with minimal effort. A high-flow fan on top of the heat sink only kicks in when needed, keeping temperatures low till the final second of every heat. Additionally, a specially developed boot loader lets the user update the Cube's firmware on his own, and the 6 integrated LEDs make the setup process a breeze.
Features
– The most current PowerFET technology provides the lowest internal resistance possible.
– The Cube's special pcb-design ensures that there is the maximum amount of copper available to where it's needed.
– 8 optimized power-profiles: formulated and proven by world class drivers.
– Sensitively adjustable auto-brake
– Turn off the Cube with your transmitter from the drivers' stand if needed.
– External setup button with a pc-interface plug.
– Self-updating firmware thanks to an integrated boot loader
– Temperature-controlled high-flow fan.
– Optimized cooling fins keep the Cube cool.
– A big powercap provides maximum punch.
Technical Data:
Input voltage (Nixx): 4-7 cells (4.8-8.4 V)
Input voltage (LiPo): 1-2 cells (3.7-7.4 V)
Dimensions: 28x33x27,5 mm
Motor limit: 3T Star
Weight (without cables): 26g
B.E.C. voltage: 5.8 V
B.E.C. max. current: 3.0 A
Power programs: 8
Source: Robitronic [robitronic.com]
---