April 27, 2010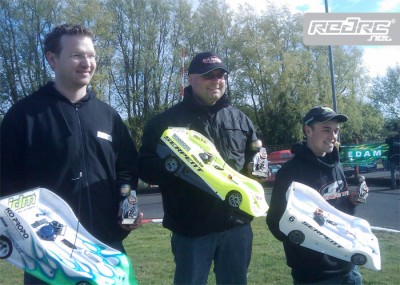 With an entry of 60 Drivers, this the first round of the Championship at the Mendip track in the west of England was going to be very competitive throughout the field and it is now not a given right that the usual Championship Contenders are guaranteed a place in the main final. To add to this, a strong contingent from Ireland arrived early Saturday morning to provide yet another obstacle to overcome.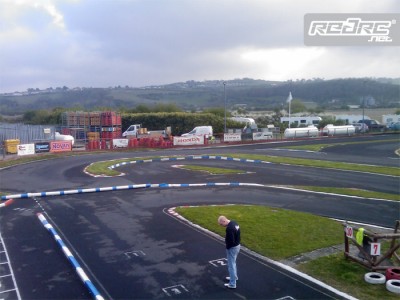 The track as always was in good condition but slightly slower than previous seasons due to additional bumps at the end of the main straight and the need for the track to be resurfaced in the future. The weather for this weekend was for a bright Saturday and an overcast Sunday with the high risk of rain.
Saturday practice would see a controlled session on the afternoon of which you have to book in and pay your entry between 1 and 1.30pm which then would guarantee you a slot within your designated practice heat of similar driver rating. This however had a mixed reaction but the majority of the drivers were in favour of it and it eliminated the potential of having a fast car closing quickly on a slower car and causing damage.
Sunday started with a drivers briefing and an introduction to the 2010 committee members. The race format for the day was for 4 rounds and finals, with no practice.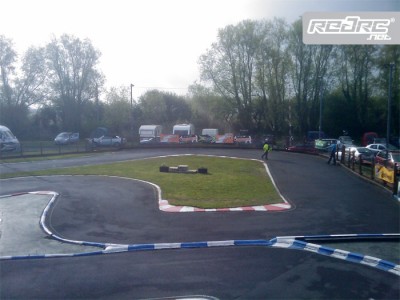 In Round 1, it was Mark Green who grabbed TQ with a 20 Lap 312sec time, followed by defending Champion Tim Wood on 19 Lap 300secs. A notable casualty was Andy North who smashed his car and also Chairman Pete Hastings, who broke a rear belt while on a strong run. In Round 2, Mark Green maintained TQ with Tim Wood again chasing hard but his time was taken away since his car didn't go straight to scrutineering. At this point, Clive Connelly cemented a position in the main final with a fast 19 lap time.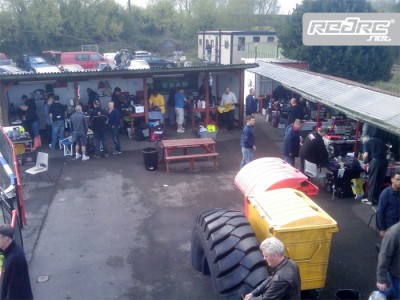 The race for the final places in the main final would be a fascinating proposition since Andy North, Pete and Andy Hastings had not put in a decent run at this stage and the threat of rain was looming. Also the drivers who were currently in the final such as the returning Dan Jones, Daniel Bancroft, John Carr and young Ashley Gouvier had an anxious wait to see if they would make it. At this point the rain came down and prevented any improvements in the last heat but Ashley in the previous heat did beat Dan Jones sufficiently to drop Dan to pole in the B final. This was then overturned however by the Committee since Ashley had failed scrutineering with an oversized fuel tank. This therefore Promoted Dan Jones in his comeback race.
The Grid was as follows:
1. Mark Green – Serpent/Novarossi
2. Tim Wood – Serpent/Mega
3. Clive Connolly – Mugen/IDM
4. Richard Hicklin – Serpent/Mega
5. Neil Diver – Shepherd/IDM
6. John Carr – Serpent/Mega
7. Chris Heath – Mugen/Sirio
8. Daniel Bancroft – Motonica/Max
9. Jason Frost – Serpent/Mega
10.Dan Jones – Mugen/Novarossi
The final main was soon underway before 4pm with Mark Green comfortably in the lead and building up a large cushion over Tim Wood in second place who was closely followed by Clive Connolly. The rest of the field was battling for the minor places with the first casualties being the Serpents of John Carr and Richard Hicklin. Neil Diver then made some minor mistakes and dropped down the running order. At just over mid race distance, Tim Wood made a mistake which eventually broke the car while running in a strong second position. This promoted Clive Connelly and Jason Frost into the podium positions. After a few mishaps in the pits with using wrong fuel guns (I will not mention any names) and blown plugs, the final positions are as follows:
1. Mark Green – Serpent/Novarossi
2. Clive Connolly – Mugen/IDM
3. Jason Frost – Serpent/Mega
4. Daniel Bancroft – Motonica/Max
5. Dan Jones – Mugen/Novarossi
6. John Carr – Serpent/Mega
7. Tim Wood – Serpent/Mega
8. Neil Diver – Shepherd/IDM
9. Chris Heath – Serpent/Mega (DQ from 5th due to width of rear end)
10.Richard Hicklin – Serpent/Mega (DQ from 9th failed to submit car for scrutineering)
The next race is in 3 weeks time at the Wombwell circuit in South Yorkshire. This is a real drivers track and if the entry is similar to round 1, then we can all look forward to another great weekend of racing.
Thanks to Andy North for the report and photos.
---