April 19, 2010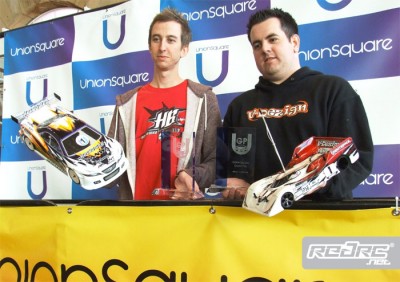 Despite having to pull out of the last final, top qualifier Andy Moore sealed victory at the Union Square Grand Prix. Two wins for the Hot Bodies driver in legs one and two of the A final sealed the victory as Andy gave the UK debut to the new prototype Cyclone. A strong drive all weekend netted the Xray pairing of Phil Chambers and Johnny Aird second and third.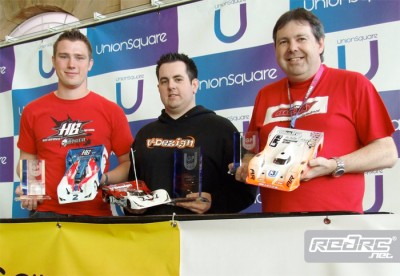 Despite his late arrival due to volcanic ash and a cancelled flight Mark Stiles took victory in the 1:12 class winning the hard way with two second places in the first two legs and needing to win the final leg. Mark had his work cut out but delivered the win in the last final to take the overall victory, Chris Clark was second for Hot Bodies with Andy Sawyer third for Corally.
Touring car results
1. Andy Moore – 2pts
2. Phil Chambers – 3pts
3. Jonny Aird – 5pts
4. Stefan Chodzynski – 8pts
5. Andy Murray – 9pts
6. Adam Meakin – 10pts
7. Chris Clark – 10pts
8. Ryan Edwards – 11pts
1/12th scale results
1. Mark Stiles – 3pts
2. Chris Clark – 3pts
3. Andy Sawyer – 4pts
4. Mark Jewitt – 9pts
5. Leigh Burton – 9pts
6. Tricia Whitley – 9pts
7. Tom Jeffries – 10pts
8. Cameron McDonald – 11pts
The event was a resounding success, from a PR point of view the exposure of RC racing to the public was on a massive scale as shoppers watched the action, some even trying out the sport with some sponsored ready to run cars, the event was also enjoyed by the competitors who raced at a top class venue with some nice touches thrown in courtesy of the event sponsors.
---