April 12, 2010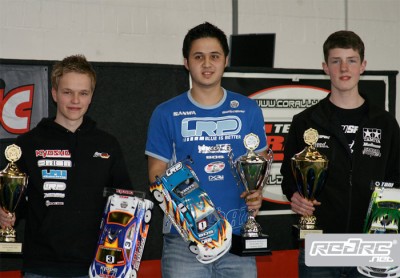 The German Indoor electric touring car Championships took place last weekend at Geilenkirchen, a permanent indoor track that was open the whole week allowing everybody to get enough practice in. In the modified class it was Ronald Völker who took the TQ spot followed by Yannic Prümper and Christopher Krapp. In the first A-main Ronald went out with a broken spur gear, allowing Yannic to drive to the win followed by Krapp and Florian Bernklau. The second main saw Ronald have a good start and would win the final followed by Yannic and Christopher Krapp. The third and deciding main was like the 2nd with Ronald taking win and securing the Championship for a 3rd time, in front of Yannic Prümper and Christopher Krapp.
Modified Final top 10:
1. Ronald Völker
2. Yannic Prümper
3. Christopher Krapp
4. Dominik Fleischmann
5. Florian Bernklau
6. Patrick Pasch
7. David Ehrbar
8. Marc Fischer
9. Frederik Südhoff
10. Daniel Sieber
In the Stock class defending Champion Eric Dankel took the TQ spot followed by Benjamin Maslowski and Tim Wahl. The first A-Main saw Eric Dankel take victory in front of Benjamin Maslowski and Heinz Jürgen Kalinowski. The second A Main was also won by Eric Dankel, who wrapped up the stock title, second was Benjamin Maslowski, in third position finished Martin Schmidt. Following a driving error, Benjamin Maslowski had to retire from the 3rd leg and soit was won by Mike Treder, second was Michael Spiering and third Tim Wahl.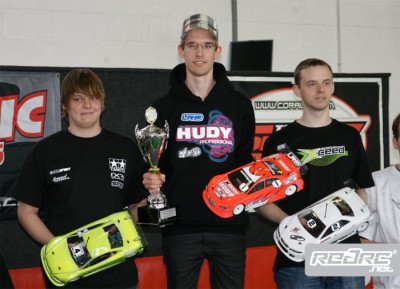 Stock final Top 10:
1. Eric Dankel
2. Benjamin Maslowski
3. Mike Treder
4. Michael Spiering
5. Tim Wahl
6. Martin Schmidt
7. Heinz Jürgen Kalinowski
8. Matthias Kröger
9. Oliver Basdorf
10.Philipp Bätz
---