May 30, 2010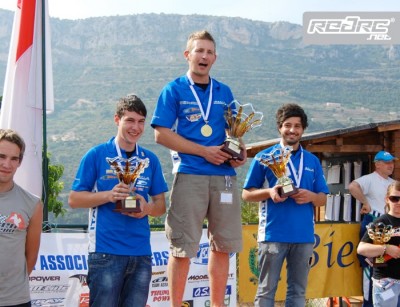 Alberto Tedeschi has been crowned champion following an exciting race at the European 1/8th scale 'B' Championships in Monaco today. With saw some tough battles in all the finals, the race finally had its 10 starters for the 45 minute main final. The first semi finals started with a cloudy sky, but after lunchtime the sun came up and from those two races the following drivers bumped up, with both Sabrina Lechner and Maximilian Federmann coming from the quarter finals
Semi final bump ups
Ciurlante Andrea (IT) – 80 Laps in 20:01.011
Tedeschi Alberto (IT) – 80 Laps in 20:11.979
Lechner Sabrina (GER) – 79 Laps in 20:03.172
Comoglio Emanuele (MON) – 79 Laps in 20:05.728
Federmann Maximilian (GER) – 79 Laps in 20:05.877
Colinet Gerald (FR) – 79 Laps in 20:10.523
In the 45 minute final we saw a lot of changes in the front with pole man Lorenzi only managing to stay in front for the first 9.30 minutes. Pitting at 5 minutes he unfortunately ran out of fuel just before the second stop. The next driver to take over the lead was Tim Wood, who was swapping position regularly with John Ermen. At the 25 minute mark it was Wood, Tedeschi and Ermen, but Wood would go out shortly after with a technical problem, leaving Ermen clear up front with Tedeschi. Thanks to a slightly different pitstop strategy Tedeschi managed to create a gap and would eventually cross the finish line 3/4 of a lap in front of Ermen with Ciurlante in 3rd. Both Tedeschi and Ermen needed 2 tire changes during the final. Unfortunately for Ermen he was disqualified after technical inspection found that his tank was over the limit, so this gave Italy a clean sweep of the podium. Maximilian Vogl became the fastest driver under 17 years taking the junior title having managed to finish in 20th after the semi finals.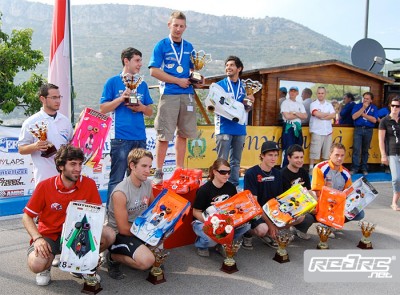 Final results
1. Tedeschi Alberto (IT) – 178 Laps in 45:01.465
2. Ciurlante Andrea (IT) – 175 Laps in 45:01.957
3. Lorenzi Andrea (IT) – 175 Laps in 45:05.047
4. Comoglio Emanuele (MON) – 174 Laps in 45:01.711
5. Colinet Gerald (FR) – 170 Laps in 45:12.225
6. Wood Tim (GB) – 165 Laps in 45:00.588
7. Federmann Maximilian (GER) – 159 Laps in 42:14.535
8. Lechner Sabrina (GER) – 118 Laps in 45:08.517
9. Kurzbuch Simon (CH) – 97 Laps in 34:27.166
10.Ermen John (NL) – DQ

Full results can be found here.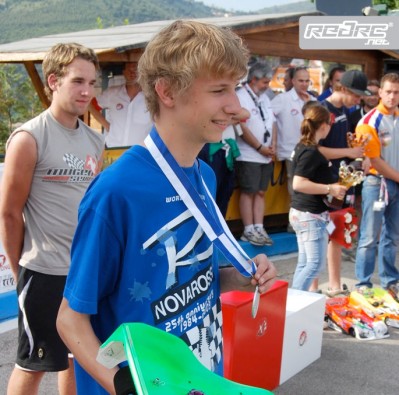 Thanks to Sander de Graaf for the update.
---