May 29, 2010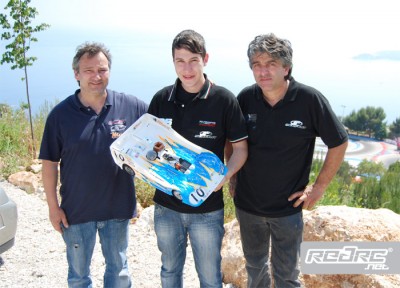 The final two rounds of qualifying have taken place at the European 1/8th scale B Championships in Monaco. After a wet night, the rain starting yesterday evening at about 20.00 hours, the track is dry again for round 3 of qualifying with the sky a little bit cloudy and temperatures about 20-24 degrees. No changes at the top as the laptimes are not fast enough to drive 30 laps at the moment. The only one coming very close in heat 10 was Andrea Lorenzi, driving 29 laps in 7.00.578.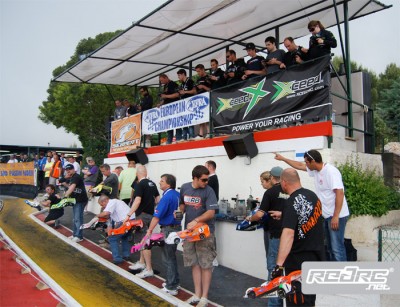 Some clouds coming over the mountains during round 4 lowered the temperatures, so faster times were possible in the last heats. In the final heat 10 Andrea Lorenzi managed to do 30 laps again, but now in 7.11.141 to claim the pole position for tomorrow's finals followed by Tim Wood, Simon Kurzbuch and John Ermen.
Top 10 qualifiers
1. Lorenzi Andrea (IT) – 30 Laps in 7:11.141 [Serpent]
2. Wood Tim (GB) – 30 Laps in 7:12.939 [Serpent]
3. Kurzbuch Simon (CH) – 30 Laps in 7:13.302 [Velox]
4. Ermen John (NL) – 30 Laps in 7:13.678 [Serpent]
5. Sting Philip (GER) – 29 Laps in 7:01.583 [Mugen]
6. Comoglio Emanuele (MON) – 29 Laps in 7:01.753
7. Colinet Gerald (FR) – 29 Laps in 7:03.231
8. Du Lac Eduardo (PT) – 29 Laps in 7:03.519 [Velox]
9. Riccobono Stephane (FR) – 29 Laps in 7:03.903 [Serpent]
10.Tedeschi Alberto (IT) – 29 Laps in 7:04.254 [Serpent]

Full results can be found here.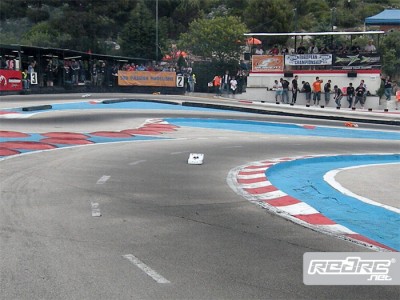 The lower finals started at 15:00 and the weather is still ok, but sun and clouds make a difference in lap times however for the finals this should be not a problem anymore.
Thanks to Sander de Graaf for the update.
---