May 4, 2010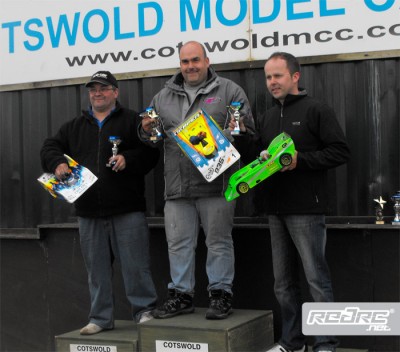 Glyn Beal sent us a report on the second round of the BRCA sports GT championship held at the Cotswold track last weekend. On Saturday morning the weather was dry and sunny, but didn't get much practice due to painting and cutting out new GTP body shells. A big thanks to Keith from Kamtec for producing this shell in a short period of time. First impressions were that everyone liked this new shell because it made car easy to set up and quicker. When I finally got on the track in the afternoon, the car was very quick from the start and both Lee Chapman and I both set the same best lap times which was a 16.6. I decided not to do much more practice as the car was going great and then of course the rain came.
Sunday morning was very cold, wet and also very windy. In the 1st round of qualifying the track was very wet and I qualified 3rd, there was no improvements in round 2. In round 3 it was a damp track which allowed me to take pole position in front of Adam Crosland, who was also using the new GTP shell. Lee Chapman decided not to go out in the last round which gave him 6th on the grid.
Qualifying top 10
1. Glyn Beal – 14 Laps in 314.43W
2. Adam Crossland – 14 Laps in 320.55W
3. Mark Christopher – 13 Laps in 304.87
4. Richard Boult – 13 Laps in 319.48W
5. Greg Fairlie – 12 Laps in 300.78W
6. Lee Chapman – 12 Laps in 307.61
7. Phil Edwards – 12 Laps in 315.11W
8. Jim Beesley – 12 Laps in 316.19W
9. Paul Dewsnap – 11 Laps in 307.90W
10.Jason Hurley – 11 Laps in 308.46W
In the final I got off to a great start from Adam Crosland and so did Lee, jumping to 4th position. I led from start to finish with only one mistake, a small off on the grass, to take the win by 3 laps helped along by my pitman John Russell who refueled me without any problems. Richard Boult took second spot, with Lee Chapman on the final podium step in 3rd.
Final results
1. Glyn Beal – 97 Laps in 1801.20
2. Richard Boult – 94 Laps in 1805.70
3. Lee Chapman – 87 Laps in 1804.90
4. Jim Beesley – 83 Laps in 1806.87
5. Mark Christopher – 75 Laps in 1418.74
6. Phil Edwards – 72 Laps in 1816.20
7. Jason Hurley – 55 Laps in 1642.35
8. Paul Dewsnap – 54 Laps in 1348.12
9. Adam Crossland – 51 Laps in 1822.59
10.Greg Fairlie – 31 Laps in 866.68
A big thank you to all my sponsors Serpent UK, Elite RC, GP Tires, CML, Complete Tools and fixings and Kamtec.
Thanks to Glyn Beal for the report.
---