May 12, 2010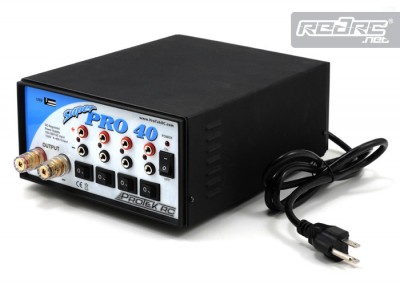 A Main Hobbies today announced their ProTek R/C "Super Pro 40" Regulated DC power supply with USB Charging Port and a total of 5 power supply outputs. The same as ProTek's super powerful 'Pro 40' power supply, with the addition of four individual 16 Amp outputs, each individually switched, allowing you to easily operate all your equipment from one power supply.
Using Switch Mode technology, the ProTek R/C 'Super Pro 40' Power Supply provides a higher level of efficiency and reduces the overall weight and size of the power supply compared to other systems with similar features. In addition, the smooth output current makes it ideal for any item that requires a 40 Amp, 12V power source. The power supply also includes a built in USB Charging Port, which will allow you to charge any USB device conveniently at your work space.
The compact size of the 'Super Pro 40' will take up less space on your table as well as in your pit bag, and at under 5 pounds is effortlessly stored and transported. Featuring an internal cooling system that keeps the power supply cool even when it is being worked hard, as well as current limiting and short circuit protection circuitry to keep your power supply safe if something goes wrong. Combine this with universal output 4mm banana jacks that can also be used with clamp type connectors, and you have one of the most flexible power supplies available.
Features:
– One primary 40 Amp 4.0mm Banana Plug/Binding Post output
– Four individually switched 16 Amp 4.0mm banana plug outputs!
– One 1.8 Amp USB Charging Port
– Internal cooling fan
– LED Power Indicator lights
– Short circuit protection
– Overload protection
– Over voltage protection
– Over power protection
– 100% full load burn-in test
Specifications:
Input Voltage: 110-120V
Output Voltage: 13.8V DC +/- 5%
Wattage: 520W
Current: 0-40 Amp
Frequency: 50 / 60Hz
AC inrush current: Cold start: 60A @ 100%
Output Connections:
(1) High Output 40 Amp 4mm Banana Plug/Binding Post Output
(4) 16 Amp Switched 4mm Banana Plug Outputs
(1) 1.8 Amp USB Output
Size (LxWxH): 260x190x95mm
Weight: 4.82lb (2.18kg)
Source: A-Main Hobbies [amainhobbies.com]
---