May 24, 2010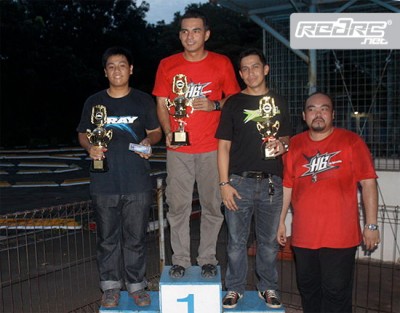 The 3rd round of Indonesian 1/10 EP TC National Championship was held at Jakarta International Twin Circuit, Jakarta in sunny weather conditions. With 69 total drivers competed in stock and modified class it was a very big entry for an Indonesian RC EP race. In the Modified class, Bowie Ginting took the TQ spot with his Xray T3 followed by Teddy Syach with his HB Cyclone TC and Kris Heriyana placed his Tamiya TRF 416X in 3rd spot.
Modified qualifying:
1. Bowie Ginting – Xray T3
2. Teddy Syach – Hot Bodies cyclone TC
3. Kris Heriyana – Tamiya TRF 416X
In the final, Syach showed his world finalist performance by winning all the finals. Again, Teddy won the race followed by Bowie Ginting and Agung Dorojatun with his Xray T3.
Modified final:
1. Teddy Syach – Hot Bodies Cyclone TC
2. Bowie Ginting – Xray T3
3. Agung Dorojatun – Xray T3
In Stock class, Teddy Syach showed his powerful and consistent driving to put his HPI Pro 4 on TQ spot followed by Xray drivers, Rudy Budiharjo and Bowie Ginting placing their T2'009 in 2nd and 3rd on the grid respectively. 2008 stock national champion, Chandra Yosef placed his TOP Photon in 4th and Ambar Wahyu completed the top 5 with another TOP Photon.
Stock qualifying:
1. Teddy Syach – HPI Pro4
2. Rudy Budiharjo – Xray T2'009
3. Bowie Ginting – Xray T2'009
In the Finals, Teddy Syach showed his class again with a hat-trick of wins in all legs. This gave Syach the overall win. Rudy Budiharjo took the runner-up spot with Suwardi Suliandy took a hard fought 3rd place.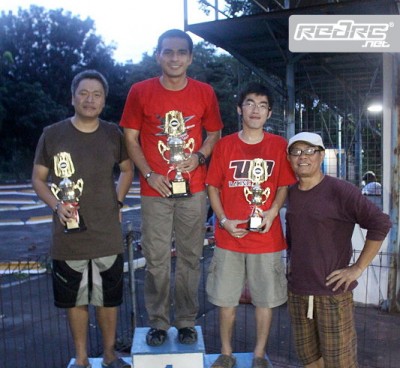 Stock final:
1. Teddy Syach – HPI Pro4
2. Rudy Budiharjo – Xray T2'009
3. Suwardi Suliandy – TOP Photon
The Modified Point standings shows Bowie Ginting and Teddy Syach leading with the same points, followed by Kris Heriyana in 3rd. The Stock Point Standings have Teddy Syach leading the point standings followed by Suwardi Suliandy and Bowie Ginting.
Thanks to Bowie Ginting for the report.
---