June 8, 2010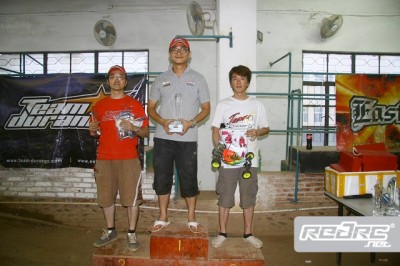 The first selection race of the 'Asian EP Buggy Party' was held in the AJ RC Arena in ZhongShan, China on the at the weekend. Due to a change of date, it was clashing with other races and so the turn out was lower than expected, however everyone that went enjoyed a great day of racing with great gifts coming from Speed Passion and JConcepts, together with new decal makers Infinity. The race was held with three 5 minutes qualifies and three 8 minutes finals. TQ in 2wd went to John Ho, who was running the new Schumacher Cougar SV, but in the final it was Antony Kwok driving a self made prototype Losi mid motor conversion XXX-M that won the A-main. Team C driver Cup Yuk Shuen, with the newly release TC-04, grabbed the hotly contested TQ spot for 4WD, while the final again provided a thrilling race with Team Durango Driver John Ho taking the final victory. All the A-main winners were using Speed Passion V3 motors, while everyone ran the JConcepts control tire.
2wd A-Main
1. Antony Kwok – Team Losi XXX-M prototype
2. (TQ) John Ho – Schumacher Cougar SV
3. Chang Wan Ai – Team C TC-02
2wd B-Main
1. Joey – Associated B4
2. Law Kwok Leung
3. John Urquhart – Associated B4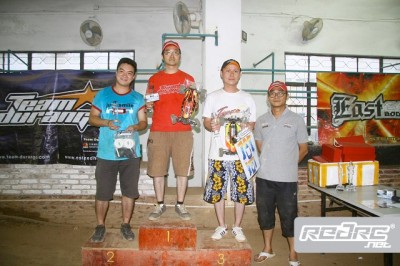 4wd A-Main
1. John Ho – Team Durango DEX-410
2. Zhang Yong Ji – HB D4 WCE
3. (TQ) Cup Yuk Shuen – Team C TC-04
2wd B-Main
1. He Ying Hua – Team Durango DEX-410
2. Eugene Cheng – Team Durango DEX-410
3. Lau Man Fung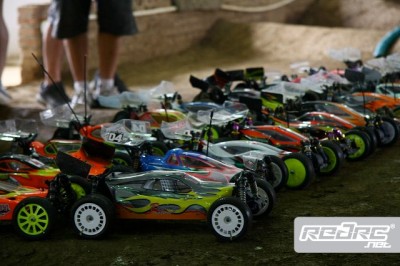 The next race will be held on 25th of July in Shanghai United Raceway. The winner of this point series will earn a ticket to Thailand for the grand final which will be held in January next year.
Source: Speed Passion [speedpassion.net]
---