June 16, 2010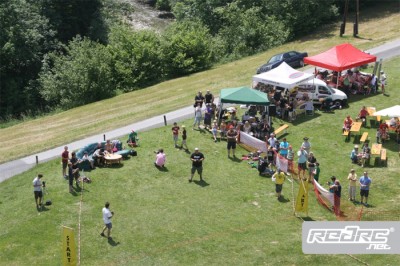 Last weekend saw 1st Hill-Climbing Event for RC-cars in Faistenau at Hacksteiner-Hills for RC cars in the region of Salzburg/Austria. The event was organized by Christoph Stopper and Willi Rinnerthaler who found a perfect location and made also very simple rules. Every driver had 3 minutes for their heats (2x qualifying and 2x final – the best result in final counts) to get as high as possible or in the case of a 'Full Hill' the time would also count. As long the car drives up the hill the time is running, if a car stops the time will be on paused and the height will be measured and after measuring the time will start again and the car has to go back to the starting line downhill.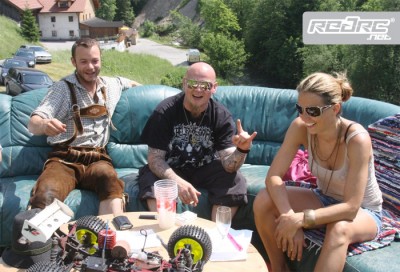 There was 2 competitions in this event, Hill-Climbing based on height and time and the Action & style category which is reviewed by three judges without RC-Car Experience sitting on a nice leather couch.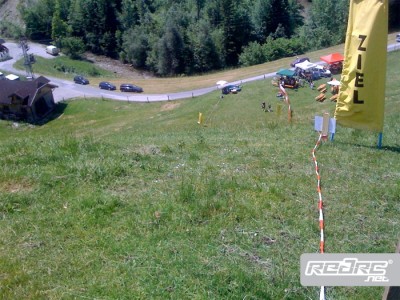 No 'Full Hill' was made in qualifying – some drivers missed the 65 meter only by few centimeters at the very difficult last few meters of the hill. The final rounds were started after the lunch break and the now completely dry track allowed every driver to get better results than in qualifying. We had following Top-14 results in the Hillclimbing event after the 2 final heats: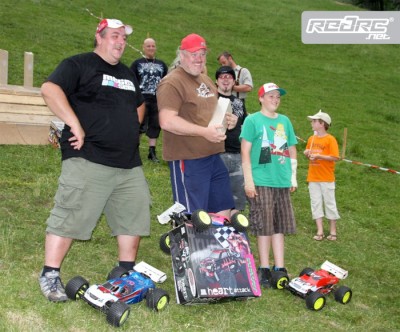 Pichler-Connection/Austria/Durango DEX10 Special – 34.40 meter
Lorenz Leitgeb/Austria/Traxxas Slash 4×4 – 35.80 meter
Bernhard Gugganig/Austria/Reely Hummer 1:5 – 42.40 meter
Martin Stöllinger/Austria/HongNor Ultra LX (bought his car during the event!) – 43.50 meter
Rene Ruffner/Switzerland/Hobbytech STR8 EP Brushless – 45,90 meter
Elli Weidendach/Germany/HongNor X2 CRT 54.80 meter
Maximilan Hoeflmaier/Austria/HongNor Ultra RR 55.00 meter
Roland Winklhofer/Austria/FG 1:5 Beetle – 55.00 meter
Kilian Ferstl/Germany/TT-Truggy Brushless – 56.00 meter
Wolfi Janesch/Austria/Hpi Baja 1:5 – 58.00 meter
Ede Mattis/Germany/HongNor X2 CRT – Full Hill/16.8 sec
Rene Rinnerthaler/Austria/HongNor X2 CRT – Full Hill/15.2 sec
Michael Klausener/Austria Mugen MBX-6T – Full Hill/14.8 sec
Michael Selner/Austria Mugen MBX-6T – Full Hill/13.7 sec
The second competition in this event was the "King of Action" – this was decided by the 3 Judges Magdalena, Max and Hubert and here the 7 year old Lorenz Leitgeb with his Traxxas Slash 4×4 took the Top-Spot. In second final leg Lorenz had a empty battery so Michael Selner had the idea during his run to take out a charged 3S Lipo from a EMaxx BL and lend it to him for this final run. Changing the battery within a few seconds, the car of Lorenz now had so much power it was not running normal anymore, doing wheelies everywhere making it easy to find the 'Action-King' for the judges.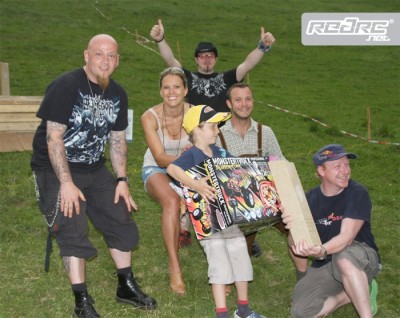 An absolute perfect event where all drivers, with cars from 1/16 to 1/5, electric or gas, organizer, judges, had big fun. The winners trophy weighed in at 14kg (28 lbs).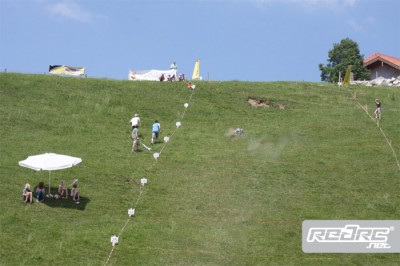 It looks like that in 2011 will be the 2nd Hill-Climbing event at Hacksteiner-Hills in Faistenau. I can only recommend to attend this event, if somebody would like to come from far away it should be combined with a few days of holiday in the great lake area of Salzburg/Austria.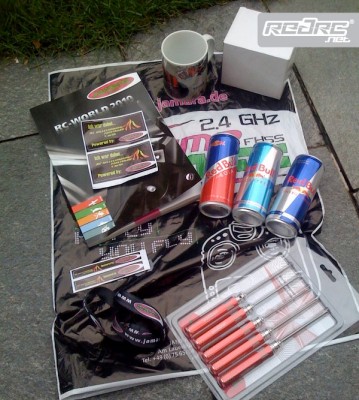 Thanks to Michael Selner for the report.
---