June 26, 2010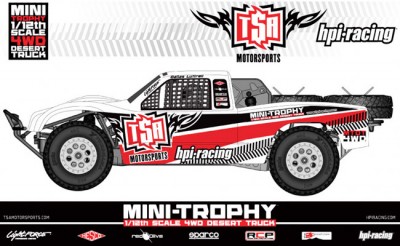 HPI Racing is teaming up with full size desert racing team TSA Motorsports to work together on the company's new Mini Trophy 4wd Desert truck. The truck will be 1/12th scale chassis and of course be based on the desert racing truck you see above.
HPI RACING [Radio Controlled Vehicle Manufacturer] IS TEAMING UP WITH TSA MOTORSPORTS [1:1 Scale Off-Road Team]

Just when you think it's about time for HPI Racing to announce a new 1/10-scale 4WD Blitz or maybe a Full-Size short course racing program… well, HPI likes to do things a little differently. And you better believe there is going to be some FUN involved. It's in our motto, "Creating Fun Since 1986!"

HPI Racing is teaming up with TSA Motorsports' Dallas Luttrell and Bill "Wild Bill" Billington for their efforts in going back to the roots of Off-Road competition – THE DESERT!

Dallas and Bill are the creative minds behind TSA Motorsports. Their approach to desert racing is a reflection of that creativity, very calculated, yet executed plain and simple. TSA's newly developed truck is different than most, breaking the proverbial mold! Dallas and Bill are not just grasping at shooting stars… they have been studying and watching desert Off-Road racing and most interestingly, the global Off-Road scene with events such as the Dakar rally. They have studied how the Dakar Rally type vehicles differ when compared to the USA's Trophy Trucks and how these vehicles handle the various terrain. They also studied the race strategies of different teams for these different types of terrain. For side-notes, they have studied the history books with a nod to Ivan Stewart for inspiration as well. Why all of these studies? Because TSA intends to learn their way to the top of the sport, to be a part of those few individuals who wish to try things differently. There are those who just want to go big and fast and follow the same "big trucks rule in the desert" theme. And there are those whose perseverance and dreams will fuel the passion for racing for a long time to come. TSA is here to stay!

The last couple of years, Dallas and Wild Bill have been whooping it across the desert in the SNORE Series in what some people call a "Pre-Runner" or even a desert capable street truck. For the sideline enthusiast, they saw what could be achieved with off-the-shelf retail parts in a 2008 Toyota Tacoma. TSA's efforts landed them four Top-5 finishes in the 7200-class of the 2009 SNORE Off-Road Series. While the TSA team did not break any records or secure any major championships, for TSA, it had a lot more to do with mentality: the mental game and the approach with equipment. Adding to the facts, the Tacoma truck is not wildly different from any other desert truck. The TSA Tacoma is more like every truck sitting in the spectator parking lot. The Tacoma itself was its own experiment to learn from, but with a much larger plan brewing in the background.

TSA built a new truck and HPI Racing built a new truck…

Enter 2010 and lots of things happening in the background. The TSA Motorsports camp has been very secretive, quiet and very busy! Luttrell and Billington took the time while racing the Toyota Tacoma in 2009 to build an experimental chassis. With numerous test-design sessions, early 2010 they built another Chassis and tested more and finished up the creative design concept all while conspiring with HPI RACING.

Same time, HPI Racing was busy developing too, as HPI Racing's USA based designer Hidekazu "Ito" Nishine has a passion for all things "truck!" Ito is the designer of the Nitro MT Series, the Wheely King/Crawler King Series and the HPI Savage Monster Truck, world famous for its brutal durability. Ito wanted to add a desert truck to his design milestones.

PROJECT MINI-TROPHY 4WD DESERT TRUCK
With TSA and HPI working on parallel Mini-Trophy desert projects, the highlight is TSA utilizing an independent suspension design base for their new 1:1 desert truck. Ito was thinking independent suspension as well and while normal for R/C, independent suspension is not so normal in the 1:1 off road race vehicles, especially with trucks. TSA is building this new truck to race in the 7200-class, basically a scaled down version of a trophy truck, more like a mini-truck that was once a 4-cylinder pick up truck. Most "mini-trucks" these days are not so "mini" and come with 6-cylinders, but compared to a 6,000+ lbs / 800 horsepower Trophy Truck, the 7200-Class is simply a "Mini-Trophy." TSA is using an in-line Ford 6-cylinder HESCO built engine. HPI also likes the "Mini-Trophy" moniker and named this new [1:12 scale] 4WD desert truck accordingly. Stay tuned to your favorite RC news site or 1 to 1 motorsports news outlets for more information.
Source: HPI Racing [hpiracing.com]
---