July 20, 2010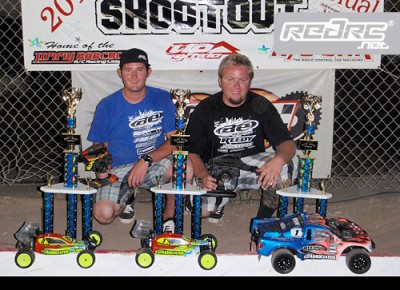 Traditionally, the Hot Rod Hobbies Offroad Shootout has been a major event on the electric offroad series and this year was no different. The racers were greeted with a great track layout that was fair and had a wide range of obstacles from rollers, to triples, step-downs, step-ups and elevation change.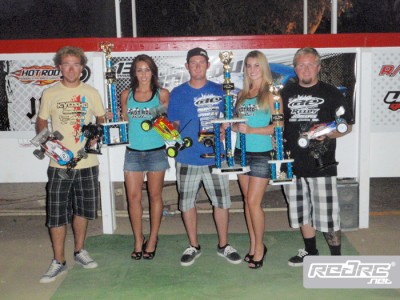 Qualifying
In qualifying both Ryan Maifield and Ryan Cavalieri battled with their Factory Team B4.1, T4.1, SC10, and B44 with Jared Tebo, Dustin Evans, and Mike Truhe for the top spots on the grid. After the dust settled it was Cavalieri who claimed the TQ position in 4WD Modified, and Maifield in Expert Short Course. Joining the AE duo in the modified A Mains were Steven Hartson (2WD, 4WD, and Truck), Brent Thielke (4WD), Chad Due (Short Course), Tanner Denney (Short Course), Cody Turner (Short Course), and Danny Ensenat (Short Course).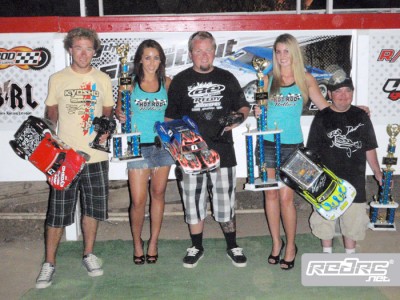 4WD and Short Course
In both 4WD and Short Course, Cavalieri and Maifield made good on their TQ positions and won the first two of the triple A Mains to claim victory for Team Associated.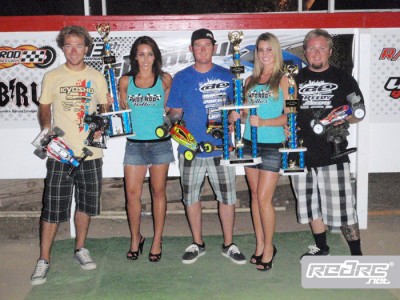 2WD Modified
In the 2WD Modified class, Cavalieri won the second A Main to set up a "winner take all" scenario between him and Tebo. The two quickly checked out from the rest of the field and Cavalieri matched Tebo's pace lap for lap until the 3:00 mark where Tebo made a mistake and Cavalieri took over the lead. Cavalieri didn't look back and held off a hard charge from Tebo to take his second class victory for the event.
Source: Associated [rc10.com]
---