July 13, 2010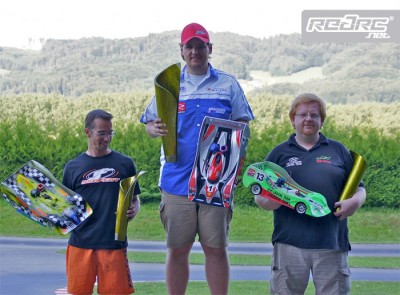 Last weekend saw the 4th round from 6 of the Austrian 1:8 Onroad championship take place at the SFMAV track near Salzburg. Very hot, perfect weather, with more than 35° air temperature and more than 50° track temperature helped produce some very hot racing action. Already in practice it looked like Mugen/Novarossi driver Mikie Klausner would dominate this event again, like the 3 events prior. With the fastest practice time, fastest lap time and winning all qualifying heats, Mikie would easily take the pole position.
Top 5 after qualifying:
1. Mikie Klausner (Mugen/Novarossi)
2. Mario Jelinek (Mugen/Novarossi)
3. Rene Strasser (Serpent/Mega)
4. Herfried Pucher (Motonica/Picco)
5. Gerhard Kandelhart (Serpent/Novarossi)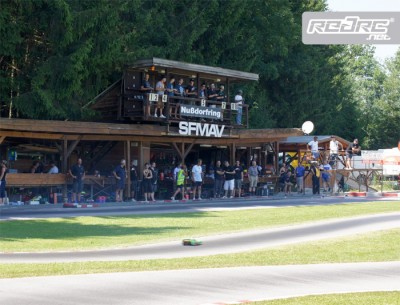 Following the semi finals, the 45 minute main final saw Klausner and Jelinek pull away from the field and at the 4 minute mark most drivers came in for refuel. Jelinek hit a barrier before the pit entry and lost nearly a lap because the turn marshal couldn't see him. Klausner had his first refueling at 4:45 minutes and was already had more than 1 lap lead. At the 20 to 25 minute mark most drivers also came in for a tire change, the cheap controlled tire does not last longer than 25 minutes normally. Harald Wendy was trying to run the whole final with only one set but after 34 minutes he had really big trouble to control the car on track and lost many laps with his tactic. At the end of the 45 minute final we had following result:
1. Mikie Klausner – 168 45:02.478 (Mugen/Novarossi)
2. Patrick Wendy – 166 45:13.169 (Serpent/Mega)
3. Christian Schiff – 160 45:05.214 (Mugen/Novarossi)
4. Mario Jelinek – 160 45:13.507 (Mugen Novarossi)
5. Mihelic Nejc – 158 43:09.756 (Motonica/Picco)
6. Rene Strasser – 158 45:09.756 (Serpent/Mega)
7. Harald Wendy – 157 45:11.119 (Serpent/Novarossi)
8. Alain Levy – 148 43.17.579 (Serpent/Mega)
9. Herfried Pucher – 144 45:08.887 (Motonica/Picco)
10.Gerhard Kandelhart – 68 19:18.085 (Serpent/Novarossi)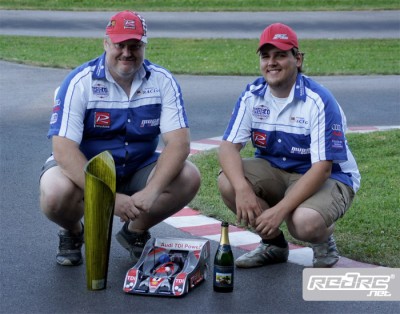 Already at the next race in about 4 weeks the Austrian championship can be decided, with Mikie Klausner needing a minimum of 6th place to become the 2010 Austrian champion, while Patrick Wendy has to win both of the last 2 races.
Thanks to Michael Selner for the report.
---