July 4, 2010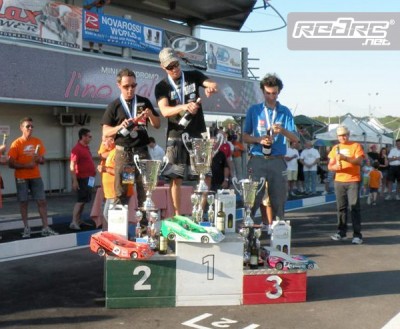 Driving the new Mugen MRX-5, a car he was responsible for designing, Robert Pietsch has finally claimed his first big title winning the EFRA 1:8 Onroad European Championship at Locorotondo in Italy today. Starting from pole position the German led the 45-minute final from start to finish. The only driver to follow him closely was Motonica's Dario Balestri who finished half a lap behind the 2008 World Championship Top Qualifier. The majority of the drivers were on a 3.5 minute fuel stop strategy with one tire change at the race's mid point. Only Alberto Picco was pitting longer running just over 4 minutes but his chances of victory ended when half way through a glowplug let go costing the Italian a lot of time. Current World Champion Lamberto Collari had to settle for third on the podium after he was forced to do an extra pit stop due to a damaged tyre on his Kyosho. Apart from Pietsch and Balestri, all the drivers were forced to make unscheduled pitstops as they hit problems.
Final results
1. Robert Pietsch (D) – 167 laps in 45.14.746 (Mugen/NR)
2. Dario Balestri (I) – 166 laps in 45.09.394 (Motonica/NR)
3. Lamberto Collari (I) – 163 laps in 45.11.659 (Kyosho/NR)
4. Oliver Mack (D) – 161 laps in 45.05.579 (Shepherd/NR)
5. Andrea Cristiani (I) – 159 laps in 45.12.022 (Serpent/Max)
6. Michael Salven (D) – 154 laps in 45.00.435 (Serpent/Mega)
7. Michele Romagnoli (I) – 150 laps in 45.03.397 (Mugen/NR)
8. Alberto Picco (I) – 148 laps in 45.07.655 (Mugen/Picco)
9. Andrea Pirani (I) – 82 laps in 23.04.125 (Mugen/NR)
10.Ilia van Gastel (B) – 62 laps in 16.54.111 (Serpent/Mega)
Thanks to Sander de Graaf for the update.
---