July 3, 2010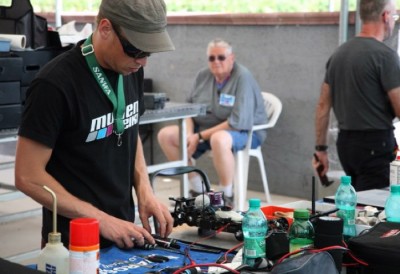 Robert Pietsch has taken the provisional pole position after one of four heats at the 1/8 nitro on-road European Championship in Locorotondo, located between Bari and Brindisi in the south of Italia. The Mugen factory driver has pushed the new MRX5 to 27 laps in 7.01,675 minutes. The MRX5, which has been responsibly designed by Robert Pietsch himself, will hit the market at the end of July.
Driving a Motonica P81, Dario Balestri came closest to Pietsch completing 27 laps in 7.03,450 minutes. Nine-time World Champion Lamberto Collari (Kyosho) with 27 laps in 7.05,318 and Andrea Pirani (Mugen) with 27 laps in 7.07,133 are listed on third and fourth position.
The top 10 after heat 1:
1. Robert Pietsch, Germany, Mugen – 27 laps, 7.02,675 minutes
2. Dario Balestri, Italy, Motonica – 27 laps, 7.03,450
3. Lamberto Collari, Italy, Kyosho – 27 laps, 7.05,318
4. Andrea Pirani, Italy, Mugen – 27 laps, 7.07,133
5. Daniele Ielasi, Italia, Shepherd – 27 laps, 7.07,838
6. Rick Vrielijnck, The Netherlands, Mugen – 27 laps, 7.10,023
7. Mark Green, Great Britain, Serpent – 27 laps, 7.12,858
8. Patrick Schaefer, Germany, Shepherd – 27 laps, 7.13,699
9. Simon Kurzbuch, Switzerland, Shepherd – 27 laps, 7.13,757
10.Francesco Tironi, Italy, Mugen – 27 laps, 7.15,757
Among the best seven positions all leading chassis manufacturers like Mugen, Serpent, Kyosho, Shepherd and Motonica can be found.
Since Monday a total of 81 racers have been doing lots of testing to find the best set up and more than that the most powerful engine for this really fast and challenging track at Locorotondo – with sunny and hot conditions, with air temperatures at 30 degrees Celsius or higher and asphalt temperatures at about 60 degres.
Lots of drivers had problems to get used to this fast track and its share in high speed of about 80 percent. A lot of racers went off the track and more than that lots of racers faced engine failures.
On the first day it was Lamberto Collari leading the time sheets but since Tuesday Robert Pietsch was setting the pace day by day with the innovative MRX5. Among those, who have been ranked among the top 20 all over the week but failed in the first heat are Michael Salven, Oliver Mack, Eric Dankel, Alberto Picco and Andrea Lorenzi.
Racing will continue at Locorotondo with three more heats on Saturday.
Source: Nitro West [nitro-west.de] / Image: William Wallace Ursillo
---