July 19, 2010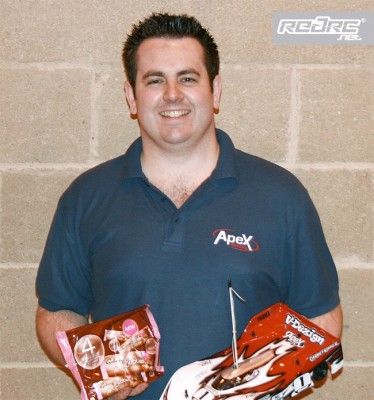 Last weekend saw round 3 of the popular AMC/CARS summer shootout series take place at the home of UK 1/12th scale racing, Chesterfield. The first two rounds of the series saw dominant TQ and win performances from former British champion and V-Dezign/Nosram driver Andy Griffiths. With each drivers' best 3 scores from the 4 rounds counting towards the overall standings, Andy looked to be the favourite for the title at the series' half way stage. However, Andy was absent for round 3, leaving the door open for his competitors to claw back some points.
V-Dezign/Parma driver Mark Stiles has been a consistent performer in the series so far and came into this round off the back of a good showing at the recent world championships in Germany. Mark continued his run of good form by dominating proceedings in qualifying, eventually taking TQ by almost a full lap ahead of his friend and rival Mick Farrell driving for CRC/Tekin. Leigh Burton was fast in the early rounds, but his pace tailed off somewhat towards the end of qualifying, and he would line up 3rd for the A final some way off TQ.
Fastest lap in qualifying went to Mark Stiles. Mark must have had his Weetabix as he was the only driver to lap in less than 11 seconds, and was almost half a second faster than anyone else. Mark led away at the start of the A final and immediately began to build a gap to the chasing pack. At the half way stage he had built an advantage of half a lap to Mick Farrell, who was being followed by Leigh Burton with Andy Sawyers Corally a short distance behind. A heavy crash at the 5 minute mark put a premature end to Mick's race, and he was later joined on the DNF's list by Leigh Burton who experienced a servo/steering issue with his car. Meanwhile at the front, Mark Stiles was in cruise mode and with his main rivals having retired he went on to win the race by more than 2 full laps ahead of Andy Sawyer. Peter Craig finished 3rd for Serpent.
This maximum score for Mark takes the championship to a last round decider where he will need to TQ and win with Andy Griffiths 3rd or lower to take the title.
More information can be found here.
---