August 10, 2010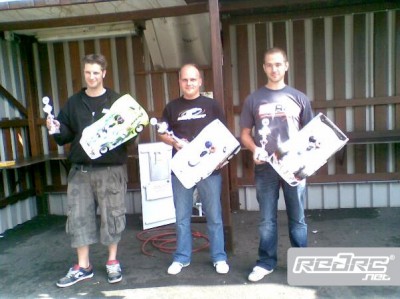 Last weekend saw the 4th round of the Dutch 1/8 nationals run on the very small and tricky track of MBC de Sluis in Gouda. Due to holidays and some other reasons there was only 41 drivers. The weather forecast for the race day did predict some rain but in the morning the racers were presented with a drying track while the rest of the day was perfect dry weather. In the NK class it was Rick V taking the pole with his new MRX5 folowed by John Ermen, Ilia v. Gastel and Robin d'Hondt. At the start of the main final the engine of Rick V was a bit slow and so John could take the lead helped by Rick V going off the track in the first corner. After getting back on track and a following a quick check in the pits he was one lap behind in 10th place but managed to work his way up to finally finish in 3rd place behind Ermen, with van Gastel taking the win.
The final result:
1. Ilia van Gastel – 112 Laps in 30:09.172
2. John Ermen – 111 Laps in 30:01.580
3. Rick Vrielijnck – 110 Laps in 30:06.554
4. Robin D'hondt – 110 Laps in 30:13.344
5. Arie Manten – 105 Laps in 30:14.950
6. Jordy Blok – 104 Laps in 30:11.823
7. Marcel Schouten – 103 Laps in 30:21.998
8. Frank Baggen – 96 Laps in 30:14.052
9. Maurice van den IJssel – 87 Laps in 30:12.897
10.Steven Cuypers – 12 Laps in 3:13.975
In the NOMAC class it was Tom Smolderen taking the pole folowed by Peter v. Koningsveld, Stanley Bauer and Remo Franssen. With the start of the final Tom had some difficulties with a very rich engine, which took some time to get right and finally he had to stop losing a chance for a podium place. Also the small and very tricky track was the cause of many accidents which at one point saw only 4 cars on the track. The drivers driving a steady race did well and saw the win go to Stanley Bauer, with Niels Reijnders in 2nd and Sjaak van der Wind in 3rd.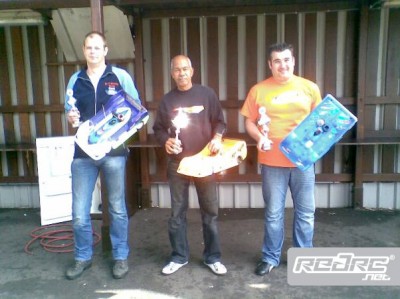 The final results:
1. Stanley Bauer – 102 Laps in 30:16.093
2. Niels Reijnders – 95 Laps in 30:10.223
3. Sjaak van der Wind – 94 Laps in 30:08.463
4. Peter Ende – 92 Laps in 28:47.620
5. Mark Hellenbrand – 87 Laps in 30:01.822
6. Dennis Hofstede – 85 Laps in 30:10.758
7. Peter van Koningsveld – 63 Laps in 20:55.508
8. Wesley van Silfhout – 55 Laps in 30:14.841
9. Tom Smolderen – 34 Laps in 16:03.103
10.Remo Franssen – 16 Laps in 4:38.856
The next race will be in 2 weeks at the MACH track in Heemstede.
Thanks to Roelof Tooms for the report. Images from AMCA.
---