August 9, 2010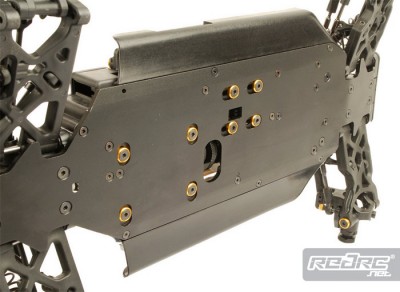 Having released the first images of THE Car last week, JQ Products continue with the 2nd part of the release with the full feature list together with some new photos.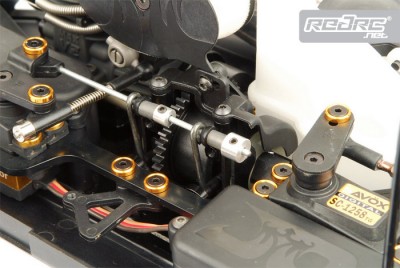 – Narrow layout, along with one of the narrowest chassis ever seen on a 1:8 buggy. (108mm at widest point). A narrow car is more nimble and fast compared with a wider one.
– Central engine location. The key to building a narrow car.
– Revolutionary Adjustable Weight Distribution. Engine and Centre Diff move 8mm forwards-back.
– Laydown Brake System. In order to make the weight distribution change easily, and taking out the centre diff easily, laydown brakes was the way to go.
– Simplest throttle/brake linkage on the market. Because simple is always better.
– Balanced left to right. Because we turn both ways on our tracks.
– Out of the box, about 3240g. Because no matter what anyone says, a lighter car is faster, wears less, consumes less fuel, and less tyres, and it is the future of our hobby. If a heavy car is faster than a light one, the light one has the wrong setup or the wrong tyres!
– Fail safe servo saver for the thread lock challenged individuals out there. Impossible to work loose.
– The first un-complicated radio tray. Changing a servo in a hurry, with tray in the car is easy. Everything on the tray can be changed with the tray, and linkages intact.
– Distinctive rear end geometry for great on power traction, acceleration and corner speed.
– New style roll-centre adjustments on rear.
– Designed for European and American tracks and drivers. Possibility to set the car up for Euro style tracks and driving style, maximum corner speed, or US style jumps and bumps.
– Pre-assembled turnbuckles, because we all hate building them.
– 14.5mm threaded, hard-anodized shocks feature 3.5mm shafts. Because bigger isn't better, better is better. We tested all sizes, and this is the best for THE Car.
– Hard Anodised CNC Aluminium Arm Holders with inserts for tuning toe-in, anti-squat and kick-up as standard. Since this is a Pro racing car, why should you have to immediately buy option parts?
– Optimized steering geometry for maximum, yet linear steering, and reduced bump-steer. Steering = Corner speed = Fast Laptimes = Wins. It's all about steering.
– Moulded composite front and rear chassis braces. CNC may be option parts, because they aren't needed, except for the people who like bling, "just because".
– 3-shoe clutch, with aluminum clutch shoes.
– Lightened Aluminium 4mm hard-anodized chassis with ballast locations as standard. Because THE Car is underweight with lightweight options installed.
– CNC Aluminium Steering Knuckles as standard. Plastic ones are for RTR:s, even if they don't break. We do have a certain bling requirement at JQ Products.
– Clunk style fuel tank because we all crash, and it feeds fuel to the engine while upside down.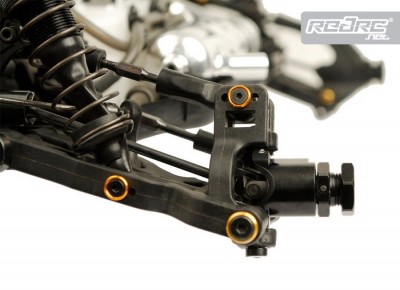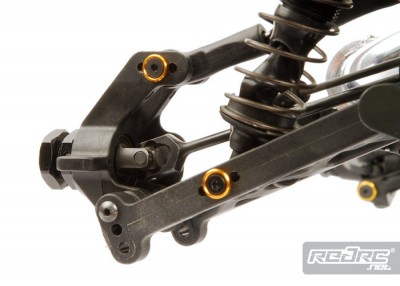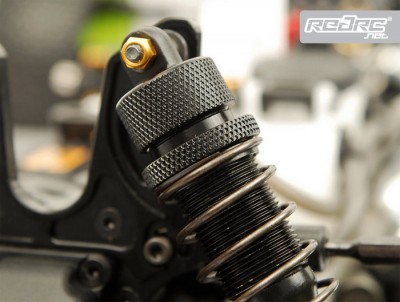 Source: JQ Products [jq-products.com]
---