August 22, 2010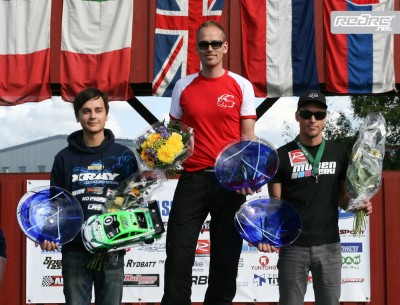 Martin Christensen has won the 2010 1/10th 200mm European Championships in Gothenburg, Sweden today, 8 years after he won he won his first European title on the very same track. Giving Italian marque Capricorn their first major title for the LAB-C01 chassis the Danish driver was the fastest driver at the start of the final, getting past Wischnewski for the lead and despite battling for position with Dirk, who would later flame out, was up front when it counted. Fast work by his pit man kept him in the hunt, however his tires were gone by the end of the 45 minute final and struggled with the car especially coming onto the straight but he was always driving within his limits and could cruise home 1 lap ahead of 2nd place.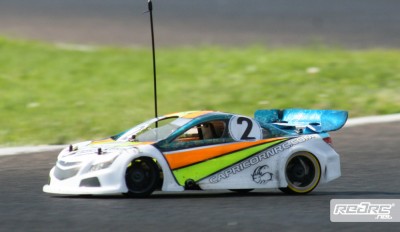 In 2nd place was 'local' racer Alexander Hagberg, the Swedish driver repeating his finishing position from the previous Euros in Italy, despite being surprised to even make the final having had what he described as a bad semi. Starting steady he upped the pace of his Max powered Xray when he started to see other drivers drop out with problems, himself having a flame out prior to one of his fuel stops, but it didn't cost him much time and he rejoined shortly afterwards.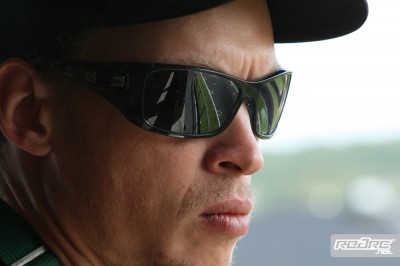 Taking the final step on the podium was the European 1/8th scale champion Robert Pietsch, the German Mugen driver having to drive very easy after suffering from a roll in the beginning of the race with what he felt was a very unpredictable car. Towards the end of the final his engine had gone off, a broken plug to blame, which sometimes wouldn't even allow the car to change gear, so he was happy with his end result in 3rd some 2 laps behind Hagberg.
Pole man Dirk Wischnewski started strongly and even after being passed by Christensen still remained in 2nd position, but engine trouble and many flame outs meant he lost a lot of time. Not planning a tire stop the reigning Champion felt he could have still battled for the lead had it not been for the engine issues that meant he ended up in 4th. Frank Andersen, Manuel Huber and Teemu Leino, in 5th, 6th and 7th place respectively all had their own problems that kept from being closer to the sharp end of the field.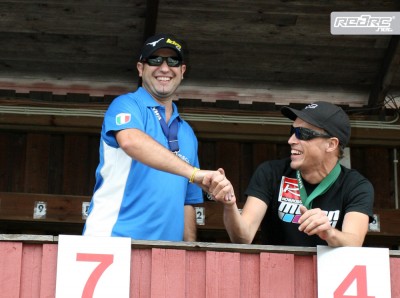 In 8th and 9th place were the two Shepherd drivers former World Champion Daniele Ielasi and 3 time electric touring car World Champion Marc Rheinard. The former had a rear belt break which ended his race, and despite feeling he had the pace to be up the front summed it up as being 'just not my day'. Marc Rheinard managed to go all of 5 laps before a broken servo put him out on the spot. Austrian driver Gerhard Kandelhart was disqualified following post race scrutiny for his rear wheel being too wide and so ended the race classified in 10th position.
Something to note was the performance of Slovakian Martin Hudy, who after dramas in qualifying had to start from dead last in the 1/128th final, managed to make it all the way to the semis only to be denied a place in the final by 4 seconds. He had been running as high as second and looking good to make the big show but an engine flame out lost him too much time.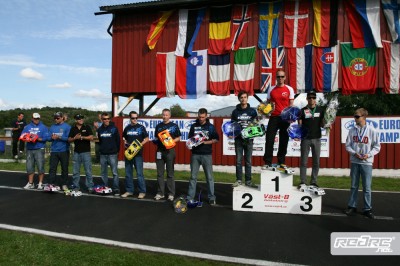 Final results
1. Martin Christensen – 172 Laps in 45:00.455 (Capricorn/Capricorn)
2. Alexander Hagberg – 171 Laps in 45:09.326 (Xray/Max)
3. Robert Pietsch – 169 Laps in 45:14.492 (Mugen/Novarossi)
4. Dirk Wischnewski – 167 Laps in 45:15.503 (Xray/Orcan)
5. Frank Andersen – 165 Laps in 45:04.610 (Xray/Max)
6. Manuel Huber – 165 Laps in 45:04.934 (Xray/Max)
7. Teemu Leino – 131 Laps in 45:01.945 (Xray/Team Orion)
8. Daniele Ielasi – 83 Laps in 23:39.144 (Shepherd/IDM)
9. Marc Rheinard – 5 Laps in 1:18.971 (Shepherd/Novarossi)
10.Gerard Kandelhart – 0 Laps in 0:00.000 (Xray/Orcan)
Full event results can be found here.
Image Gallery (roll over image for description)
Thanks to Ruben d'Arco for the report and photos.
---