August 17, 2010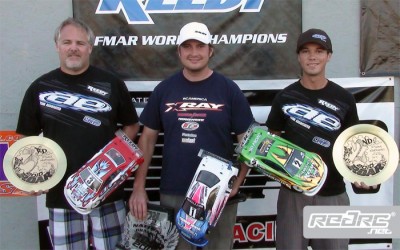 Xray are reporting on the recent ROAR On Road Nationals, which was held at Nor-Cal hobbies, the same track also played host to the Reedy Race of Champions a couple months ago. There were to be 4 total rounds of qualifying, 2 rounds of qualifying on Friday. In Mod 12th scale it was Kevin Hebert pretty much dominating the first day by setting TQ in both, in Mod TC it was Paul Lemieux who TQed both rounds with Hebert and Rick Hohwart close behind. In 17.5 expert TC it was Martin Crisp who was looking fast and setting TQ's with a very close field behind him. In World GT and 17.5 12th it was Dave Ehrlich who was looking strong in both classes.
Saturday saw much of the same guys going fast. In Mod TC Paul Lemieux secured the overall TQ with a win in the third round of qualifying, In mod TC round 4 Kevin Hebert TQed the round securing him the 2 spot on the grid. In 17.5 expert TC Mark Burt was on fire, grabbing 2 TQ's of his own to TQ the event, Mark was fast all week but really put together 2 fine runs to put his Xray on point. In sportsman TC Brian Shook secured his TQ along with Dave Ehrlich in 12th 17.5 and World GT.
Sunday saw the finals were run as triple A mains, with close racing in all classes. In World GT Dave Ehrlich had a tough day from the pole but still salvaged a podium out of it, Brian Shook drove well and got his WGT figured out for the final.
In 17.5 12th scale it was all Ehrlich and he took the A1 and A2 win with some really good laps and times.
In 12th mod Hebert continued his dominance over the field in A1, but in A2 Hohwart surprised everyone by leading some of it and having a good chance to push it to an A3, in the end it was still Kevin that prevailed taking both A1 and A2. Rick afterward said that he used a lot of throttle and was trying to drive over his head to keep pace with a faster car.
In 17.5 TC we saw 3 very close finals. In A1 it was TQ Mark Burt who battled much of the race with various drivers but held his spot to the end and take A1 over James Arluck. In A2 it was Martin Crisp who had a great drive and battle with Mark Burt to take the A2 win and send it to A3. In A3 Mark Burt came out swinging and put together a near Flawless drive with Crisp on his bumper much of the way, and in the end his Xray crossed the line first to secure his well deserved national title.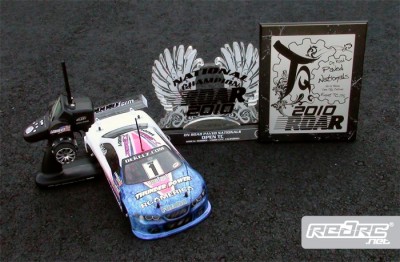 Mod TC had some great finals also. In A1 Lemieux got out front but was not let away, Kevin Hebert stayed close off the line, the lead was swapped back and forth between the two drivers due to small bobbles from each, coming on to the straight Kevin got a nose inside of Paul but a crash followed between the two which really bunched up the field. Paul came out of the wreck in the lead and drove clean to win A1. In A2 it was again the same start, Paul and Kevin Pulling away, Kevin got up to Paul's bumper a couple of times and was looking for ways to get by. Then Paul pulled a small gap and that was the way it stayed for the rest of A2 with Paul and his T3 wrapping up the Title in A1 and A2.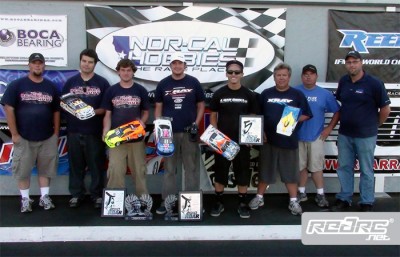 Final podium standings
Sportsman TC:
1. Brian Shook
2. Andrew Doherty XRAY T3
3. Ron Diao
Expert 17.5:
1. Mark Burt XRAY T2'008
2. Martin Crisp
3. Korey Harbke
Mod TC:
1. Paul Lemieux XRAY T3
2. Kevin Hebert
3. Rick Howart
Source: Xray [teamxray.com]
---