August 24, 2010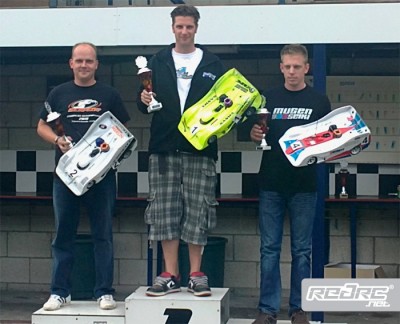 The weather forecast was to expect rain for the 5th round of the Dutch 1/8th scale National championships but thankfully it was wrong and the whole day saw dry weather on the MACH track in Heemstede. Qualifying saw Rick V with the Mugen MRX-5 did take the pole position 2 seconds in front of Ilia v. Gastel, with the 3rd spot going to Robin d'Hondt and in the 4th and final direct final spot was Jordy Block.
At the start of the main final Rick took the lead with Ilia was close behind him. Robin d'Hondt was driving a strong race until he had engine problems, with this he saw any chance becoming Dutch champion come to an end. In the last 2 minutes Rick had a one and an half lap lead on Ilia and started to save his engine to bring his car home. Ilia was closing in to Rick but in the end Rick could take the win in front of Ilia with Jordy Blok taking 3rd.
The final result of the NK
1. Rick Vrielijnck – 120 Laps in 30:00.124
2. Ilia van Gastel – 119 Laps in 30:01.150
3. Jordy Blok – 117 Laps in 30:00.712
4. Steven Cuypers – 117 Laps in 30:02.466
5. Joey Sorber – 114 Laps in 30:04.043
6. Stefan Koenders – 109 Laps in 30:12.866
7. Gunther van Staey – 108 Laps in 30:10.898
8. Frank Baggen – 93 Laps in 30:11.673
9. Robin D'hondt – 52 Laps in 12:43.688
10.Daan Haling – 44 Laps in 18:17.005
In the NOMAC class it was Tom Smolderen taking the pole as the only one with 20 laps followed by Remo Franssen, Stanley Bauer and Peter v. Koningsveld. A lot of things were happening in the final making it very exciting. Tom was in the lead but several times he had some trouble with his drive train losing laps. Remo took over the lead and went for the win. Slowly Glenn was pushing forward and in the last minute he overtook Remo but sadly one corner after he went off the track due to glitches so Remo could take over the lead again. Remo took the win followed by Glen in 2nd while Tom Smolderen was 3rd.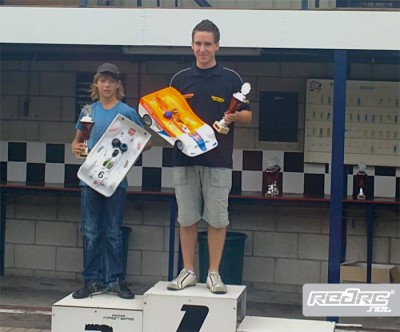 The results of the NOMAC final:
1. Remo Franssen – 109 Laps in 30:08.865
2. Glenn van Oversteeg – 109 Laps in 30:12.467
3. Tom Smolderen – 104 Laps in 30:08.151
4. Dennis Hofstede – 101 Laps in 30:04.041
5. Peter van Koningsveld – 100 Laps in 30:15.750
6. Richard Engbersen – 99 Laps in 30:06.481
7. Arie Wouters – 70 Laps in 21:03.868
8. Niels Reijnders – 61 Laps in 18:07.558
9. Stanley Bauer – 36 Laps in 9:38.425
10.Peter Ende – 33 Laps in 9:29.733
With just one race to go still to go, both championships are still up for grabs, it should be an exciting final race on the REAL80 track in Groningen.
Thanks to Roelof Tooms for the report and photos.
---