August 24, 2010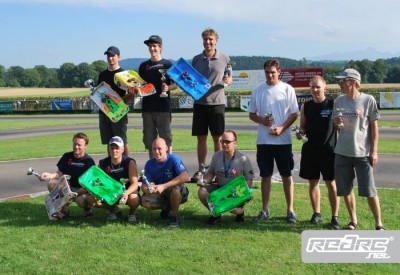 Round 4 of the Swiss 1/8th scale Nationals took place under very sunny conditions at the nice Sitterdorf track. It was the first race during the season  where the racers could drive their cars in dry conditions. The drivers within the expert class made an exciting main final on Sunday afternoon. Simon Kurzbuch with his Velox V8 had very good qualification runs and started on pole position into this main. He was very fast from the beginning of the main final and could held the first position for a long time, but the really exciting part came in the last 10 minutes.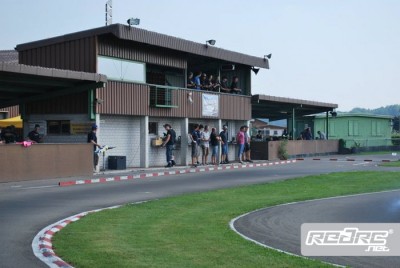 Simon Kurzbuch was on second position because Motonica racer Mattia Pesenti was also running very fast and could take the first position. It was an amazing race from Mattia and a lot of people were astonished by his pace. The only problem was his tyres, which had lost a lot of rubber and he started to become slower but he was still faster than many other drivers in the main final. He was about half a lap ahead of Simon but Kurzbuch was really fast in the last 5 minutes reducing the distance to Mattia meter by meter.
The last fuel stop was critical to who will win this race. Mattia came in first, his father Sergio is a very fast mechanic and had him back out very quickly. Now everybody was looking for Simon's pit stop. Christian Kurzbuch, the father of Simon, was a little bit faster filling the fuel and Simon could get back on track 4 meters ahead of Mattia. Both finalists gave everything and could hold their cars on the track without making mistakes. At the end, Simon Kurzbuch was crossing the finish line on first position followed by Mattia Pesenti 0,9 sec behind. Luca Martinelli ran a consistent and fast race and ended in 3rd position.
Final Ranking  –  V8 Track Expert
1. Kurzbuch Simon / MRCL / 175
2. Pesenti Mattia / MRTM / 175
3. Martinelli Luca / MRCU / 174
4. Geisser Andy / MRR / 172
5. Nydegger Jürg / MCRTB / 169
6. Müller Marco / MRTM / 168
7. Pethoud Christophe / MRCAL / 167
8. Ali Renato / MRCI / 160
9. Hächler Silvio / RTZOW / 136
10. Henzi Thomas / MRCL / 120
Also the amateur class had a spectacular main final, due to the two fastest drivers after qualifying, Roland Stalder (Velox, Novarossi) and Stefan Köhl (Velox, Max) had a high pace could pull out a big distance to the rest of the field. Unfortunately Roland Stalder had technical problems and could not continue this high pace losing time each lap.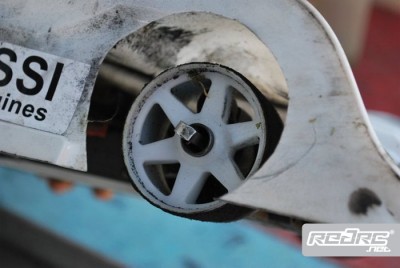 At the end Stefan Köhl ended as the winner with 4 rounds in front of 2nd place Pascal Kurzbuch, who was driving fast and consistently during the whole main final. Pascal was driving his Mugen MRX4, not much slower than his older brother Simon. At the end he had problems with steering because he had no more rubber on the front tyres. He was followed home by the local driver Stefan Paul in 3rd position.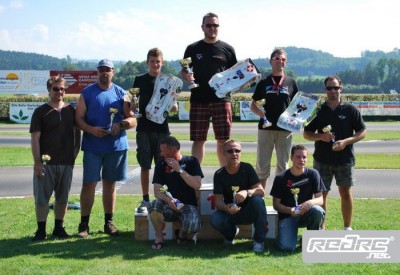 Final Ranking  –  V8 Track Amateur
1. Köhl Stefan / MRR / 110
2. Kurzbuch Pascal / MRCL / 106
3. Paul Stefan / MRCSG / 105
4. Suter Rolf / MRCL / 103
5. Stutz Urs / … / 102
6. Giannakos Theo / MRR / 101
7. Stalder Roland / MCRTB / 97
8. Huonder Iso / MRR / 91
9. Hajdekr Ales / MRCSG / 80
10. Pacor Ender / MRCL / 40
Source: Raspeed [raspeed.com]
---