September 14, 2010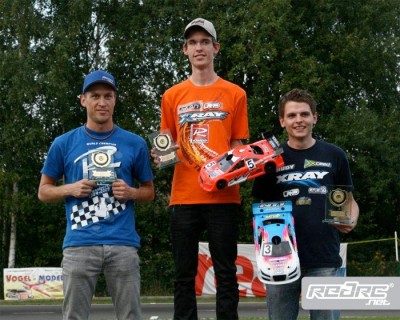 Eric Dankel has been crowned as the 2010 German Champion 1/10 scale nitro. With his Orcan LR3 powered Xray NT1 he crossed the finish line at the one-event German Championship held at Leipzig just two seconds ahead of pole setter Robert Pietsch with his Novarossi powered Mugen MTX4-R. The podium was completed by 2009 champion Thomas Guensel with his Xray/Orcan.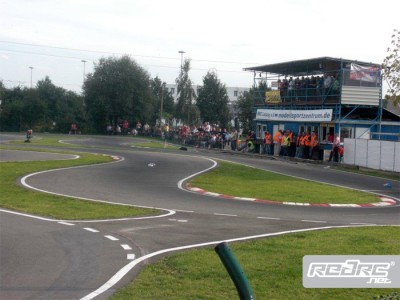 Following three days of practice – but one day was mostly lost due to rain – four heats were run on Saturday under perfect conditions. The more than 330 meter long and really fast track of the MRC Leipzig required high level racing skills of the 69 competitors not only because of the newly built and heavily excoriated chicane in the middle of the straight. However, lots of spinning and flying cars were seen, from all drivers, even from the best.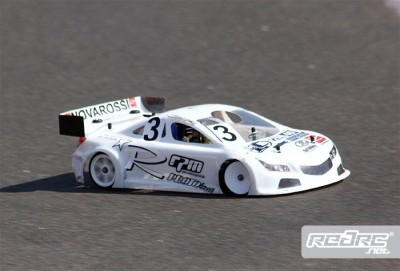 In his third heat Robert Pietsch managed 16 laps in 5.08,450 minutes to take pole position and to beat Dirk Wischnewski (Xray/Orcan) who did 16 laps in 5.11,624 in heat one. In the last heat Thomas Guensel came really close to Wischnewski with 16 laps in 5.11,884. The last spot as a direct qualifier was captured by Patrick Gassauer (Kyosho/Team Orion), winner of the German 1/10 EFRA Grand Prix, with 16 laps in 5.14,404. Beside these four racers, only Rico Kroeber (Xray), Daniel Thiele (Mugen), Toni Gruber (Serpent), Patrick Schaefer (Shepherd), Manuel Singer (Xray), Michael Salven (Serpent), Eric Dankel (Xray) and Kai-Oliver Guttschau (Mugen) completed 16 laps to claim positions five to twelve.
The perfect conditions with sunny weather and temperatures around 25 degrees Celsius continued on race day. From the 15 minutes 1/32 final Jan Moehlmann, Dominik Zeidler (Kyosho), Claus Nauth (Xray), Daniel Hoffmann (Xray), Marcus May (Edam) and Helgo Gleisberg (Capricorn) stepped up onto the next level. In the 1/16 finals Pierre Pfeil (Kyosho), again Moehlmann and Hartmut Rose (Xray) as well as Daniel Toennessen (Mugen), Marco Nenner (Kyosho) and again Gleisberg managed to capture the bump-up positions. From the 1/8 finals Sebastian Wagner, Joerg Baldes (Mugen) and Torsten Mueller (Shepherd) as well as again Toennessen, Dieter Fleischer (Kyosho) and Michael Paetz (Serpent) made it into the 1/4 finals where Simon Balk (Xray), once again Mueller and Juergen Hennemuth (Serpent) as well as Patrick Naehr (Xray), Michael Hauser (Xray) and Uwe Baldes (Mugen) finished on the valuable first three positions.
"Mr. Shepherd" Patrick Schaefer won the 30 minutes semi final B with 88 laps with a four seconds advantage over Patrick Naehr. Michael Hauser came on third with 87 laps and Daniel Thiele on fourth with 86 laps. Rene Puepke (Mugen) retired after 25 laps following engine troubles and Uwe Baldes was stopped by a broken conrod after 58 laps. Michael Salven and Bernd Rausch (Kyosho) suffered twice each troubles with broken spur gears but finally made it to the end of the race.
Semi final A was a clear affair for Eric Dankel winning with 89 laps in front of Rico Kroeber and Dirk Stammler (Serpent/O.S.), both lapping the track 88 times. Simon Balk came on fourth with 87 laps in front of Toni Gruber with 86. Benjamin Lehmann (Mugen/O.S.) had an early retirement after two laps following damages from a traction-roll during warm-up, and also Juergen Hennemuth had to stop after 47 laps. Finally Hauser and Balk were disqualified because of body/wing issues. So it was Dankel, Kroeber, Stammler, Schaefer, Naehr and Thiele to complete the grid for the 45 minutes final alongside with Pietsch, Wischnewski, Guensel and Gassauer.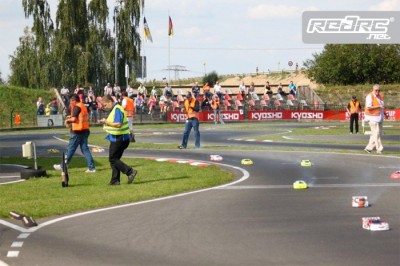 The start went to a real disaster when Pietsch flamed-out and Wischnewski made a jump-start. That caused an incredible confusion with cars crashing, taking the short-cut back to the pits or mechanics picking up their cars in the grid again. Only two cars, Dankel and Gassauer, were racing. Surprisingly race director Frank Morgenstern called for a re-start, may be because of the confusion and only two cars racing or because of the tumble of Arno Puepke in the pit lane. The mechanic of Daniel Thiele slipped on the roof paper which became loose on the makeshift wooden pit lane. Arno Puepke suffered a triple fracture of his right hand.
The re-start went well and Pietsch took advantage from his pole position to lead the field for a while. The race was over for Dirk Wischnewski after twelve laps because of an broken steering servo as a result of a collision following his jumped start. Beside Wischnewski it was only Schaefer who didn't finish the final. Eric Dankel had a superb start and was quick from the beginning. Also his stops for refueling, handled by Andy Weyhoven, have been excellent so it was clear that Dankel was a real challenger for Pietsch. The W.C. TQ men lost some valuable seconds when lapping back markers but the deciding moment came when mechanic Felix Heise called for a change of the right-side tires and the engine flamed-out in the meantime to make it a 40 seconds stop. From that point the Mugen of Pietsch was flying around the track trying to catch up again to Dankel who went under considerable strain. Pietsch showed an impressive performance with breathtaking maneuvers. Already in lap 131 Pietsch did the fastest lap of the final with a 19,070 followed by a 19,072 in lap 132.
Guensel, one lap down, had some hopes to become the laughing third party but finally it didn't happen. Eric Dankel brought his Xray/Orcan home in style to take the real deserved honour of the new champion with Pietsch crossing the finish line only two seconds behind – a really close decision in a top-class 45 minutes final. Guensel was a strong third to complete the podium. Following a steady run Dirk Stammler made it to fourth place ahead of Patrick Naehr, coming from quarter final, Rico Kroeber, Daniel Thiele and Patrick Gassauer.
Result of the 1/10 final:
1. Eric Dankel, Xray / Orcan – 134 Runden / 45.05,213
2. Robert Pietsch, Mugen / Novarossi – 134 / 45.07,221
3. Thomas Günsel, Xray / Orcan – 133
4. Dirk Stammler, Serpent / O.S. – 130
5. Patrick Nähr, Xray / Orcan – 129
6. Rico Kröber, Xray / Orcan – 127
7. Daniel Thiele, Mugen / O.S. – 123
8. Patrick Gassauer, Kyosho / Team Orion – 121
9. Patrick Schäfer, Shepherd / Novarossi – 72
10.Dirk Wischnewski, Xray / Orcan – 12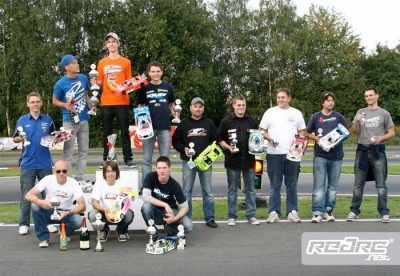 Statistics: Xray was the leading chassis in the final of the German Nationals with five cars – and the leading brand in general. Mugen had two cars in the final, Serpent, Kyosho and Shepherd one each. Furthermore, five cars were powered by the Orcan LR3 MH engine (tuned by Michael Heinreich), two each by Novarossi and O.S., one by Team Orion.
German Champion in the youth category became Patrick Naehr ahead of Austrian Manuel Singer, in the junior category Toni Gruber took the title in front of Jakub Rozycki from Poland. The honour as German Champion 40+ went to Michael Salven ahead of Uwe Baldes.
Only two weeks later, from September 22nd to 26th, the German Championship 1/8 will be held in Roetz in Bavaria in the south of Germany.

Source: Nitro-West [nitro-west.de]
---