September 13, 2010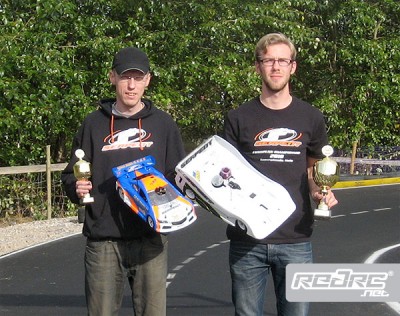 This past weekend the 2010 Swedish national nitro onroad cup had its final race in Eskilstuna. The cup started in May in Vaxjo, then followed by Orebro in June and Trollhattan in July and now the final race in Eskilstuna. Before the final race the two best out of three scores was to be counted with the fourth and final race being mandatory for all racers. Driven in semi dry conditions making everything very challenging and exciting, the 1/10th 200mm race was won by Niclas Nilsson racing a Max powered Xray NT1 borrowed from his friend Alexander Hagberg. In the 1/8th class the race victory was taken by Marcus Lindner racing his Novarossi powered Serpent 966. With the results added up it was Per-Ola Hard that won the 1/10th 200mm series, with Marcus Lindner taking the 1/8th series.
So after everything being counted the final standing of the 2010 series was like this:
1/10th 200mm class
1. Per-Ola Hard, Serpent 733, RB & Orcan
2. Staffan Karlsson, Serpent 733, Novarossi
3. Markus Hellquist, Serpent 733, Novarossi
1/8th class
1. Marcus Lindner, Serpent 966, Novarossi
2. Bengt Andersson, Serpent 966, Novarossi
3. Stefan Andersson, Shepherd Velox V8, Novarossi
Thanks to Per-Ola Hard for the report.
---