September 14, 2010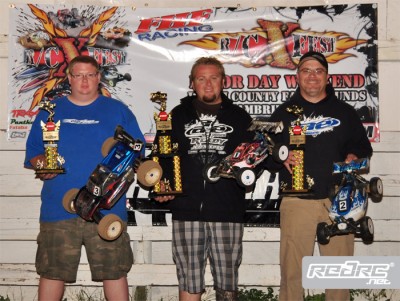 For R/C racers, Labor Day weekend in Minnesota has become RC X-Fest weekend. For the 6th annual event, many of the fastest drivers in the world converged in Cambridge, Minnesota for a weekend of excitement and no-holds barred entertainment. With an event known for a multitude of classes and special events, the RC X-Fest has become something to remember for all participants. Ryan Maifield was in Minnesota to do business with his JConcepts equipped RC8B and RC8-E. Ryan was at the top of the field all weekend included TQing the E-buggy class and qualifying 2nd in 1/8th buggy. However, it didn't come easy as the bumpy surface provided a challenge for the experienced driver from sunny Arizona.
After qualifying, Ryan was poised and ready for the A-main. Mounting up a fresh set of JConcepts Subcultures in green compound proved to be the ticket for the developing conditions for the A-main. In the E-buggy class Ryan made quick work driving from the pole position, straight into the lead and completely checked out. In a test and tune opportunity for the upcoming ROAR Nationals, the RC8e was completely dialed, thanks to some hefty driving, Subcultures tires and Punisher body, Ryan was the class of the field.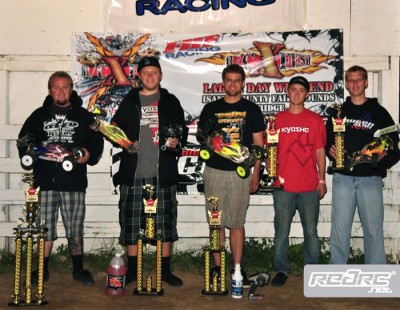 In the featured main of the day, 1/8th buggy nitro class, Ryan moved straight to the front of the pack on lap-1 and never looked back. The lead steadily grew as Ryan developed a comfortable yet quick pace that proved to be too much for the competition. Cruising into victory lane was almost too sweet as Ryan crossed the finish line for yet another win with JConcepts on the 2010 racing tour.
Source: JConcepts [jconcepts.net] / Images: Skinny from Xtreme R/C Cars Magazine
---