September 28, 2010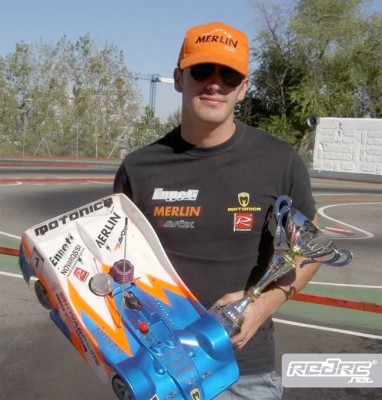 The last round of the Spanish 1/8th National Championship was held in ARCA track, near Madrid last Sunday. The main candidates for the overall title were Carlos Peracho and Nacho López after previous race in Valladolid where Oscar lost most of the chance due to an inopportune belt breaking while he was leading the race. So Oscar had to win the race and expect his main rivals to finish below 4th. Oscar Cabezas was top qualifier in the 4 rounds, follwed by main rivals, Carlos Peracho and Nacho López.
1. Oscar Cabezas(Motonica/Nova/Merlin Fuel) – 24 L – 7:00.435
2. Carlos Peracho(Velox/IDM) – 24 L – 7:07.175
3. Nacho López(Serpent/Nova) – 24 L – 7:07.212
Right at the start of the A Final Carlos Peracho had trouble with his gear box, and lost all chances, losing more than 2 minutes. Nacho López had some trouble in lap 37 with a electronic connector, losing the control of his Serpent. In the meantime, Oscar Cabezas was leading the race comfortably. Just to add some excitement Oscar had a mechanical problem that made him lose about 1:30. However he had a good gap with 2nd and lost just one place, finishing on second place and taking his 4th Spanish National Title while Joaquín Villegas (Velox-Max) got his first Victory in a Spanish Round.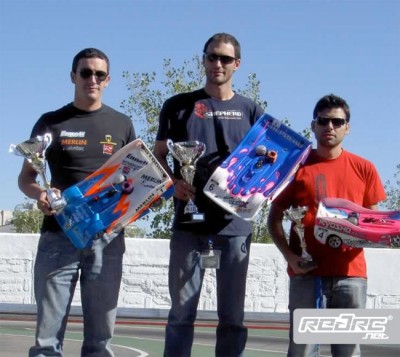 Madrid final result:
1. Joaquín Villegas (Velox/Max) – 145 L – 45:10.015
2. Óscar Cabezas (Motonica/Novarossi/Merlin Fuel) – 142 L – 45:13.963
3. Victor González (Kyosho/OS) – 141 L – 45:02.119
4. Sergio Montesinos (Nova) – 139 L – 45:04.914
5. Juanmi Delgado (MRX-4/Nova) – 139 L – 45:08.003
6. Cristian Lopez (Kyosho/Max)
7. Carlos Peracho (Velox/IDM)
8. Nacho Lopez (966/NovaJBTRC)
9. Paco Lara (966/NovaJBTRC)
10.Alberto Alonso (Velox/OS)
Source: Merlin [merlinfuel.com]
---