October 9, 2010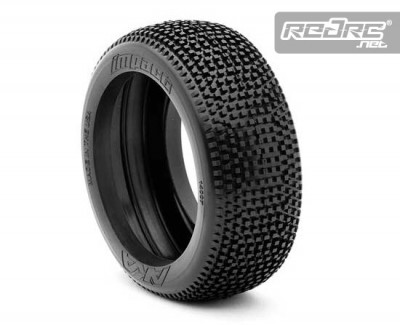 AKA have announced two new products developed for the 1:8 Buggy IFMAR World Championship next month. The first new product is their Impact buggy tire that features a dense small square lug pattern with offset lug rows in the center of the tire to deliver maximum forward traction and good wear characteristics. The two outer rows of lugs are parallel to create a circumferential groove at the edge of the tire to give the tire very predicable side bite. This allows the car to rotate in the center of the turn while still feeling very stable and predictable. The Impact is built on AKA's latest carcass design featured on their Enduro and Wishbone tires. Available in all of AKA's proprietary compounds from super soft to hard with and without inserts and it will start shipping in mid-November.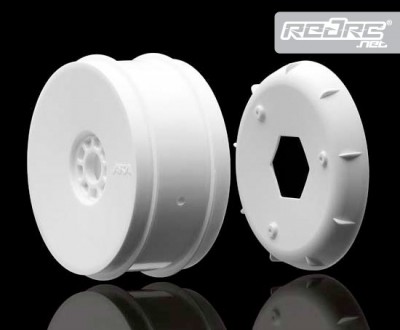 Their second product announcement is the all new EVO buggy wheel. From the brains of Mark Pavidis and Gil Losi comes a complete redesign of the AKA buggy wheel. Now that AKA's closed cell foams have become a part of everyone's product line it became apparent that all the current wheels are too soft compared to the now stiffer inserts and the ever increasing G forces of modern 1:8 buggy chassis.  The goal was to achieve a stiffer wheel without sacrificing weight or durability. Mark and Gil were able to reach this goal by first changing the face of the wheel from convex to concave.  This design change helps the EVO wheel deal with the ever increasing G-loads of a modern 1:8 buggy without distortion of the face of the wheel.
Next they were able to kill two birds with one stone by developing an optional internal dish which serves two purposes. The first and most important purpose is to further stiffen the wheel and especially help the inner most bead of the wheel hold it's shape. The second purpose of this dish is to block dirt from being trapped within the inner ribbing of the wheel and throwing the wheel out of balance.These design innovations allowed the wheel to be stiffer without going to stiffer, and therefore more brittle, plastic or increasing wall thickness which gives up clearance and adds weight at the outer edge of the wheel. The advantage of the stiffer EVO wheel shows up immediately on rough tracks, high bite tracks, tracks with large jumps and tracks with high speed sections. The EVO wheel will be available in both white and yellow and is still made from the super durable AKA nylon that current AKA customers are used to. The inner wheel stiffeners are available separately in sets of four in both white and yellow and are removable and transferable from set to set. The EVO wheel can be used without the inner stiffener, but we know once you use the stiffeners, you won't want to go back. Also available mid-November.
[youtube]http://www.youtube.com/watch?v=HyOISNcPsaQ&hd=1[/youtube]
Source: AKA [raceaka.com]
---