October 20, 2010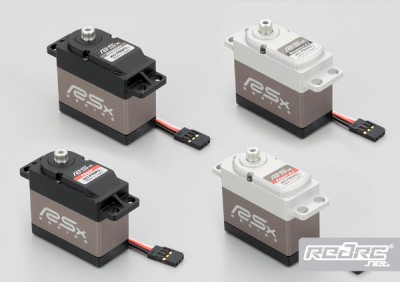 KO Propo have released their new RSx (Racing Servo) series of servos. These new servos are the result of two years of R&D for both on-road and off-road. The new servo line features all new materials for increased strength and new programming to take advantage of today's current technology.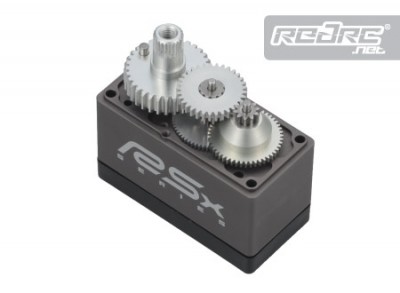 Internal Improvements:
– The servo gears are cut in house for the best Quality Control from "special Japanese aluminum" for superior hardness and wear. This aluminum is 30% lighter and 20% stronger then steel.
– The servo amplifier and processor has been re-worked and optimized for Lipo direct voltage but will still operate when used with NiMH cells.
– A new core-less motor for the higher voltage is used to further enhance the use of the LiPo technology.
– New ICS programming and new software will be available via PC or the RSx setting card.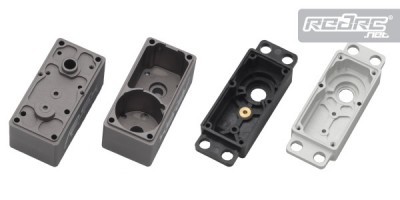 External Improvements:
– The middle case is a one-piece machined aluminum part so the gears and gear pins are held properly in place without any plastic insert that will wear out.
– The standard RSx features a new upper case redesigned with increased rigidity on the mounting tabs. The H.C. (Hard Case) versions of the RSx include a machined upper case for maximum rigidity.
RSx Response H.C. 30100 (Digital Servo, Speed Type, Hard Case)
Voltage: 6V or 7.4V
Torque @6V: 200.1 oz-in, 14.5 Kg-cm
Torque @7.4V: 242.9 oz-in, 17.6 Kg-cm
Speed@6V: 0.07 S @ 60°
Speed @ 7.4V: 0.06 S @ 60°
Bearings: Yes, DBL
Lead Connector: Gold plated
Gears: Full metal
Weight: 70.5 g
Size: 41×37.5×20 mm
RSx Power H.C. 30101 (Digital Servo, Torque Type, Hard Case)
Voltage: 6V or 7.4V
Torque @6V: 362.9 oz-in, 26.3 Kg-cm
Torque @7.4V: 436.1 oz-in, 31.6 Kg-cm
Speed@6V: 0.13 S @ 60°
Speed @ 7.4V: 0.11 S @ 60°
Bearings: Yes, DBL
Lead Connector: Gold plated
Gears: Full metal
Weight: 70.5 g
Size: 41×37.5×20 mm
RSx Response 30102 (Digital Servo, Speed Type)
Voltage: 6V or 7.4V
Torque @6V: 200.1 oz-in, 14.5 Kg-cm
Torque @7.4V: 242.9 oz-in, 17.6 Kg-cm
Speed@6V: 0.07 S @ 60°
Speed @ 7.4V: 0.06 S @ 60°
Bearings: Yes, DBL
Lead Connector: Gold plated
Gears: Full metal
Weight: 65.6 g
Size: 41x38x20 mm
RSx Response 30103 (Digital Servo, Torque Type)
Voltage: 6V or 7.4V
Torque @6V: 362.9 oz-in, 26.3 Kg-cm
Torque @7.4V: 436.1 oz-in, 31.6 Kg-cm
Speed@6V: 0.13 S @ 60°
Speed @ 7.4V: 0.11 S @ 60°
Bearings: Yes, DBL
Lead Connector: Gold plated
Gears: Full metal
Weight: 65.6 g
Size: 41x38x20 mm
Source: KO Propo [kopropo.com]
---