October 4, 2010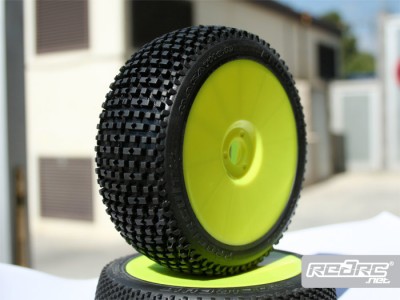 Spanish brand Pro Circuit has been in contact to tell us about their new line of 1/8th buggy tires. Starting with the Sweet Shot, this tire offers drivers a tread pattern for the most challenging track conditions, while maintaining incredible grip across a wide variety of track surfaces. It offers drivers consistent handling on outdoor racetracks with a little bit of loose dirt and really stands out in loose to loamy track conditions. With the centre bars you can expect this tire to deliver the power to the ground. The Sweet Shot are a specialty tire that when matched to the appropriate track can provide amazing results. It provides awesome forward traction, fantastic response as well as quick corner speeds.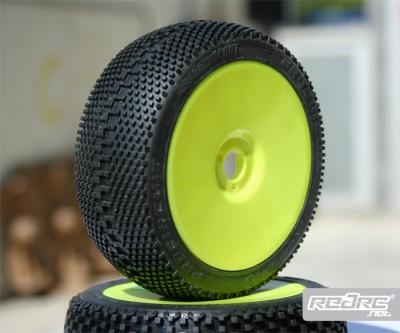 With the Square Impact, the Pro Circuit team wanted to make a tire that compares with other leading brands compounds. So after several sessions designing, and receiving inputs from team drivers, they developed the Square Impact. Wear is always critical when going to a small pin tire, but this tire has been designed for maximum performance when new or used as the design allows even wear all the way down to the tire body. Square Impact excels on indoor and outdoor hard slick surfaces with either dry or wet conditions. These tires offer less sidewall flex, improved response and offer an overall saving of weight. The distance between center bars offer much more forward traction than other small pins
treads.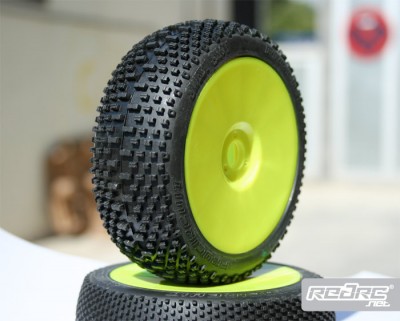 Finally, the Marathon, like the name suggest Pro Circuit wanted to make a tire with optimum tread wear and easy to drive characteristics that would last longer and work better in a multitude of conditions and a variety of track surfaces from loose to high traction. So after several sessions designing, and receiving inputs from team drivers, they developed what would be their first tire. Many tests later in different tracks all team drivers reported these tires are safe, give security and offer racers a confidence inspiring performance. Drivers also compared our first tire with other leading tires and reported that last much longer, so that is where they got the name Marathon. At the very base of the tire pattern is a "T" pin design which provides grip at a time when most tires are left bald. On all the tires Pro Circuit did not miss a detail as the outer pins have already been clipped at a convenient angle for a smoother driving feel and transition.
Source: Pro Circuit [ultimateracing.es]
---