October 21, 2010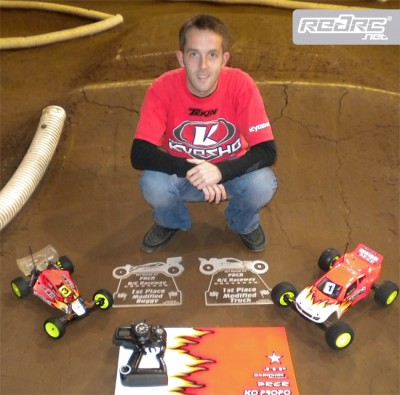 The first stop for the 2010 Electric Championship Tour was held at Four Season's Raceway in Olympia, Washington on October 16th, 2010. The ECT is a 6 race series that visits a different track each month. The best 4 out of 6 races are used to determine the Champion for each class. The 2wd Modified Buggy Class is the premier class for the ECT. This class always averages the most entries throughout the series in the modified division. After qualifying and the lower main bump-ups were complete, Kyosho would have 6 cars out of 10 in the A-Main. Triple A-Mains would then be run to decide the overall winner for round 1.
In Leg 1 Kyosho up and coming local driver Daniel Lea took the win, Shaun Dunlap finished 2nd, and Joe Pillars finished 3rd. Leg 2 and it was Shaun Dunlap that laid down a perfect main to take the win, Joe Pillars finished 2nd, and TQ Chris Bridgewater finished 3rd. In A-Main 3 Shaun Dunlap once again made his way up to the front to take the lead and would hang on for the win. Daniel Lea would put on a good charge to finish 2nd in the main and that would give him 2nd overall. Joe Pillars would use his points from A-Main 1 and 2 to round out the podium for 3rd overall.
2wd Modified Buggy Overall Finishing Order:
1. Shaun Dunlap – Kyosho RB5-SP2
2. Daniel Lea – Kyosho RB5-SP2
3. Joe Pillars – Kyosho RB5-SP2
4. Chris Bridgewater (TQ) – Associated
5. Bob Murphy – Kyosho RB5-SP2
6. JC Johnson – Losi
7. Mike Brown – Kyosho RB5-SP2
8. Keith Hadley – Losi
9. Luke Smith – Associated
10. Brian Munn – Kyosho RB5-SP2
In the Modified Truck Class it was Kyosho/Team Orion Driver Shaun Dunlap who set the overall TQ. After qualifying was complete, Kyosho had 5 trucks in the A-Main. In A-Main 1 Dunlap lead from start to finish, JC Johnson would finish 2nd, and Chris Bridewater in 3rd. A-Main 2 and it was Chris Bridgewater who would take the win, Dunlap finishing 2nd, and JC Johnson in 3rd. In 3rd and final leg Dunlap went on to take the win and take home his 2nd overall win of the weekend. Bridgewater finished 2nd giving him 2nd overall. Johnson finished 3rd giving him 3rd overall.
Modified Truck Overall Finishing Order:
1. Shaun Dunlap (TQ) – Kyosho RT5
2. Chris Bridgewater – Associated
3. JC Johnson – Losi
4. Andy DiBrino – Kyosho RT5
5. Bob Murphy – Kyosho RT5
6. Daniel Lea – Kyosho RT5
7. Chris Gould – X-Factory
8. Mike Brown – Kyosho RT5
9. Brady Jansen – Associated
Also congrats go out to privateer drivers Thomas Tran for TQ and Winning Super Stock Truck with his Kyosho RT5 and to Jonathan Cantrell for Winning Stock Buggy with his Kyosho RB5-SP2.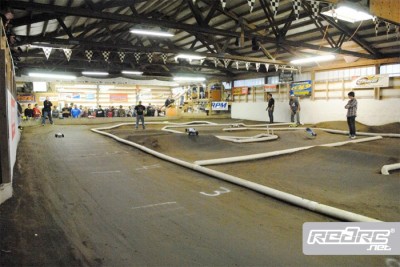 Source: Kyosho [kyoshoamerica.com]
---