October 9, 2010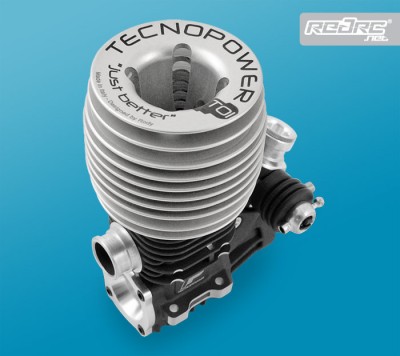 TecnoPower have introduced the first edition of the "Just Better" Truggy range of competition engines. A new engine for proven winners, including the experience of 3 World championship titles inside, the T01-23 Truggy could be considered one of the better .23 size Truggy engines. Featuring a chrome-plated cylinder liner with 5 intakes and 1 exhaust for high durability and long life. A fully machined silicium charged aluminum piston with special designed lubrication rings for low friction properties between the piston and sleeve.
A new developed insulated slide valve carburetor including a 7mm venturi allows quick and easy tuning to specific race conditions. To keep things as simple as possible for the user, this specific carburetor has only 3 possible adjustments, high speed-needle, idle-needle and air-screw.
The SG or now also called SPT style 14mm crankshaft in the T01-23 is made from a special steel containing an unique composition and heat-treatment, machined and finished to perfection. No need for extra counter weights so lighter. The special shape of the crankshaft and specially developed internal diameter provides a special flux for an optimum fuel-air mixture.
The conrod is made out of the best available aluminium and its knife-edged design made to reduce internal turbulence, a special selected bronze material for the bushing is used to decrease the internal friction and wear. A special and new way for the lubrication of the crankshaft-pin is used for this conrod to increase the lubrication film and reduce friction. The specially selected bearings chosen for the TecnoPower engines are of the high-speed type to obtain the highest reliability and performances. The glowplugs used for the "T01" are of the conical/turbo type and made out of Stainless Steel.
TecnoPower T01 Engine Specs
Part# 01001-23T
Type: Truggy
Displacement: 3.83 cc(.23)
Bore: 17.05 mm
Stroke: 16.80 mm
Intake Ports: 5
Exhaust Ports: 1
Glowplug: Conical
Cooling-Head: Diam. 60 mm
Crankshaft: 14mm SG/SPT
Carburetor: Aluminium /Casted / Slide / 7mm Venturi
RPM range: 5.000 – 38.000
Weight: 367 Grams
Source: TecnoPower [tecnopower-motor.com]
---