November 6, 2010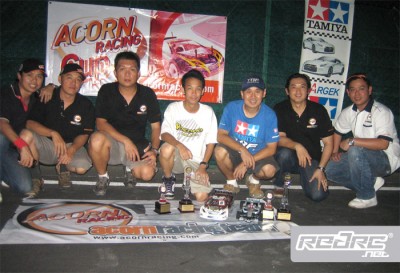 Acorn Innovations held their Inaugural Acorn Racing Cup (On-Road EP) on the 24th October in Glenmarie, KL, Malaysia, the beautiful track where the FEMCA Off-road race was held. The race was open F1 and Stock Touring and it attracted top racers around the region mainly from Thailand, Malaysia, Brunei and Singapore with one common aim to be crowned Champion race and the eligibility for a 1-year sponsorship contract directly from Acorn Racing Factory.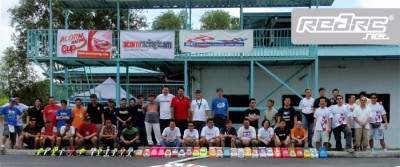 The Race format was 3 x 6 minutes qualifying, followed by a 3 x 6 minute finals, with no restriction on the brand of batteries nor cars for this race but all A- Main drivers from each category have to use the handout matched batteries from Acorn Racing for their second run of their finals in both classes.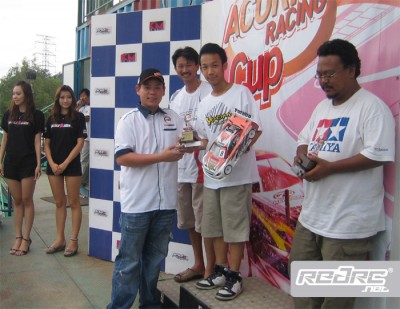 After 3 rounds of qualifying in the Stock Touring, it was Thailand boy wonder, Benz Paphon with Speed  Passion powered Yokomo BD5 that took the TQ spot ahead of Xray drivers Jacky Siow and PY Tang. Acorn Racing's drivers KS Chu and Allister Lim only managed to qualify 9th and 11th respectively. In leg 1 of the finals Paphon lead from the start to finish with no major challenge from Jacky and finished 1st. Coming in 2nd and 3rd position are Jacky Siow and Ong San. In the finals leg 2 all drivers are required to use handout Acorn Racing 5500mAh 36C Lipo packs. Once again, the unstoppable Paphon managed to clinch 1st again in the fastest 6-mins round of the day, improving his total time by 8s and was crowned the champion of the day, followed closely by Jacky Siow in 2nd and PY Tang in 3rd. In the finals leg 3, the remaining drivers scrapped it out for the remaining podium places. However despite falling back few
positions, Paphon still managed to powered his way to the 1st position, with Norazam in 2nd and Sharin in 3rd.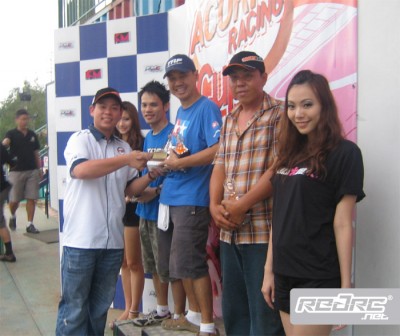 Despite stiff competition, experienced local driver, Ong Chee Yong dominated the formula class with his Tamiya F104, displaying exquisite controlling. He took pole position and won all 3-leg finals to win the championship. Singapore Daniel Chee took home second and third went to Malaysia's Ah Tong. Acorn Racing's Cecil Chua still managed to finish 6th despite having transponder issues throughout the event.
Stock Touring Overall Results
1. Benz Paphon TH
2. Jacky Siow MY
3. Norazam MY
4. Shairin MY
5. Ong San MY
6. KS Chua MY
7. PY Tang SG
8. Leonard Ong MY
9. Michael Low MY
10.Ong Chee Yong MY
Formula One Overall Results
1. Ong Chee Yong
2. Daniel Chee
3. Ah Tong
4. Norazam
5. Alvin Lam
6. Cecil Chua
7. Daniel Khaw
Both winners were awarded with a 1-year sponsorship deal directly from Acorn Racing. Stock Touring winner Paphon said "I was impressed that the handout packs was able to maintain the power throughout the 6 mins run, allowing me to clock better times". Lucky draw prizes were also given to all race participants as a token of appreciation from Acorn Innovations, ending the debut cup race on a high note.
Source: Acorn Racing [acornracing.com]
---