November 17, 2010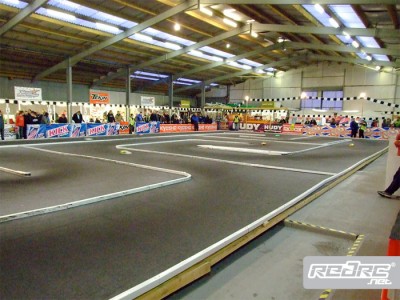 The second round of the Ardent winter On Road series took place over the weekend, with the Schumacher team once again in attendance and looking for some good results. The series is run on the Sorex 28JB control tyres which can be run for many runs without deterioration in the performance which is excellent for the drivers and for sure adds to the popularity of the series. With a packed venue with 14 heats it shows what a good job John and his crew are doing in the area.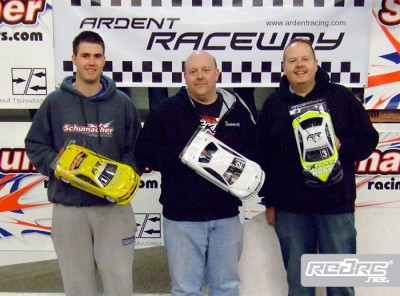 In the 13.5T class Schumacher driver Liam brooks put in a strong showing once again by taking overall TQ from Nigel Shaw and track owner John Dawson.  Liam did enough in both legs of the finals to take the overall victory with a win and second as the top three ended in qualifying order.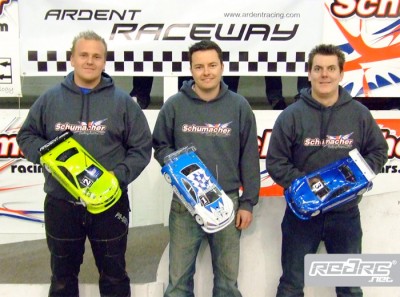 In the slightly faster 10.5T class Schumacher's Chris Ashton had chosen to enter in preparation for the BRCA winter national, with an almost A final field it was going to be tough.  The TQ position was contested hard by 3 Schumacher drivers, James Hart, Chris and Darren Lee.  Chris clinched it in the final run with the new Mi4CX prototype, less than a second ahead of James with Darren not much further back.  The finals were fast a furious affairs but the outcome was the same as qualifying, Chris, James and Darren with a Schumacher 1-2-3.
The big boys modified class was dominated by track local Andy Moore who took TQ and a comfortable win, with Olly Jefferies in second.  Schumacher's Chris Grainger and Matt White battled hard in the finals but after some panel bashing incidents they were left in midfield positions.
Source: Schumacher [racing-cars.com]
---