November 10, 2010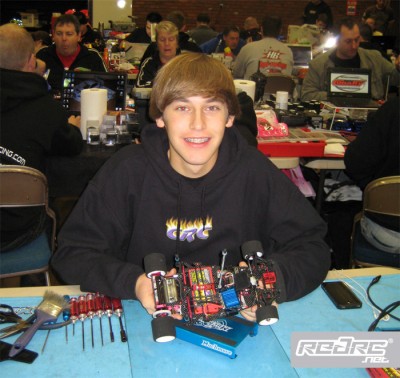 After much anticipation and build up, the 2010/11 British 1/12th scale nationals got underway at Crewe on the last weekend of October. A tight and technical layout challenged the drivers, who included an overseas visitor in the form of Vesa Yli, designer of the V-Dezign chassis'. Mark Stiles sent us the following report.
Elliott Harper ran away with the stock class on Saturday, eventually lapping the field in the A final! Behind him there was close racing aplenty, with a train of 5 cars battling over 2nd place for much of the race. Sam Clifton made his first BRCA A final after threatening to do so on many occasions last year – well done Sam! Sam was one of 5 V-Dezign cars in the A final, with 2 Associateds, 2 CRC's and a Serpent making up the remainder of the top-10. Nigel Hale made a return to the A final after 2 years in the B final. At 52, he must be one of the oldest drivers to have made a national A final, and has been doing so for almost 30 years.
At last years Crewe national, Mick Farrell TQ'd the stock class but received nothing for his efforts due to a shortage of champagne. At the time he commented that he wasn't bothered about the champagne, but that a crate of lager would have done just fine. Jim Spencer agreed. This year, Jim was true to his word and presented Mick with a crate of Carling for his TQ 12 months ago. A delighted Mick raised the biggest smile of the weekend.
Sunday saw the usual split between sports and open modified, with a roughly 40/30 split, with sports being the biggest class.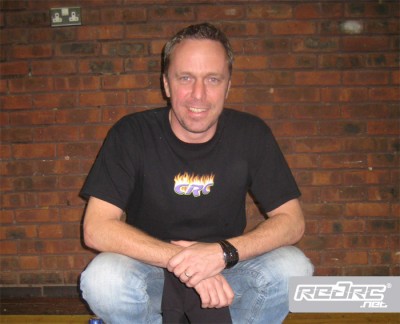 Reigning champion Mick Farrell ran away with sports modified – he TQ'd and won the A final comfortably for CRC/Tekin. V-Dezigns Mark Jewitt had driven superbly on Saturday, but couldn't carry his blistering pace into Sunday and was unable to seriously challenge Mick for the win. Jim Spencer made the podium at his home event ahead of Damien Holmes, who had a good weekend running his new V-Dezign car.
Elliott Harper dominated qualifying for open modified, as he had done on Saturday. The fight for 2nd was equally close, with 4 drivers fighting it out for the front row of the grid. Mark Stiles initially qualified 4th, but lost his best time due to not marshalling as he was busy rebuilding the front end of his car. This dropped Mark to 5th behind V-Dezign front man Vesa Yli. Special mention to Leigh Burton for being the 2nd driver to make his first BRCA 1/12th scale national A final in as many days!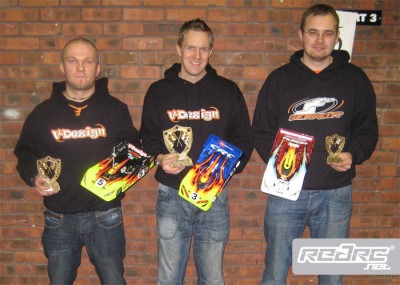 The final looked to be a formality in the early stages as Elliott began to ease away from the chasing pack. However, a mistake during the first 2 minutes but him back in the mid-field, and what then ensued will be remembered as one of the best A finals for many years. 5 drivers ran nose to tail for almost the entire race, with Chris Kerswell, Andy Griffiths and Mark Stiles all having brief spells in the lead. Andy Griffiths was at the front when it mattered though and took the win ahead of Vesa, with Chris Kerswell beating Mark Stiles for 3rd by .1 of a second. Elliott finished 5th after a disappointing race. Keith Robertson was the last driver to remain on the lead lap, but couldn't match the pace of the top 5 and had a lonely run to 6th place.
Following the meeting at Crewe, V-Dezign confirmed that regular A-Finalist Matthew Varah will join the team for the remainder of the season. This will further bolster the already strong UK team of Carpet Ripper drivers who made up more than 30% of the A final places at the Crewe event!
Spec A
1. Elliott Harper – CRC
2. Chris Kerswell – Serpent
3. Vesa Yli – V-Dezign
4. Andy Griffiths – V-Dezign
5. Mark Jewitt – V-Dezign
6. Mark Stiles – V-Dezign
7. Matthew Varah – Associated
8. Mick Farrell – CRC
9. Nigel Hale – Associated
10.Sam Clifton – V-Dezign
Sports Mod A
1. Mick Farrell – CRC
2. Jim Spencer – Associated
3. Damien Holmes – V-Dezign
4. Nigel Hale – Associated
5. Mark Jewitt – V-Dezign
6. Chris Bosomworth
7. Daniel Holmes – V-Dezign
8. Jason Butterfield – Associated
9. Fred Hatfield
10.Peter Craig – Serpent
Open Mod A
1. Andy Griffiths – V-Dezign
2. Vesa Yli – V-Dezign
3. Chris Kerswell – Serpent
4. Mark Stiles – V-Dezign
5. Elliott Harper – CRC
6. Keith Robertson – Associated
7. Andy Sawyer – Corally
8. Leigh Burton – Xray
9. Paul Ash – Associated
10.Matthew Varah – Associated
Thanks for the Mark Stiles for the report.
---