November 21, 2010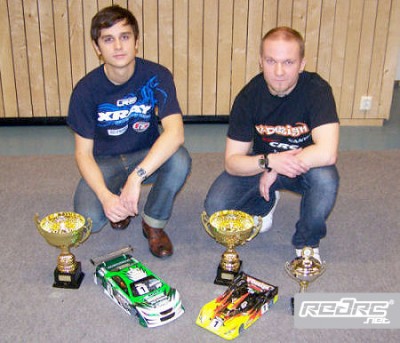 The indoor Nordic Championships was held this weekend at Spydeberg, 40 minutes from Norway's capitol city Oslo, with some of the best of the Nordic drivers from Finland, Sweden and Norway in attendance. In Modified touring it was Xray driver Alexander Hagberg who had the best run and claimed the TQ spot ahead of local star Adrian Berntsen in 2nd and Michael Nilsson in 3rd. In 1/12 scale it was Vesa Yli who was fighting with Helge Johannessen for the TQ spot and after 5 qualifying heats it was Vesa who claimed the top spot in front of Helge Johannessen and Adrian Berntsen.
In Modified Touring it was Alexander Hagberg that secured the first final, 0,8 sec in front of Adrian Berntsen and Michael Nilsson. The 2nd final saw Hagberg secure the Nordic title with the win in front of Michael Nilsson and Niclas Nilsson after an impressive run. The 3rd and final leg saw Alex Hagberg with technical problems that put him out, so the fight for 2nd and 3rd spot was open. Michael Nilsson managed to make it a 2nd Swede in front of Norwegian Adrian Berntsen who managed to secure the Junior Nordic title.
In the first 1/12th final Vesa Yli had a real close fight with Helge Johannessen with the duo on a mission until the 7,30 mark when Helge Johannessen dumped allowing Yli to secure the first final. The 2nd final saw Vesa Yli and Helge Johannessen again fighting for the lead and Helge Johannessen managed to overtake Vesa but after a couple of turns he took back the lead by over taking Johannessen on the outside of the sweeper after the straight securing him and V-Dezign the Nordic title.
Thanks to John Lara for the report.
---