December 7, 2010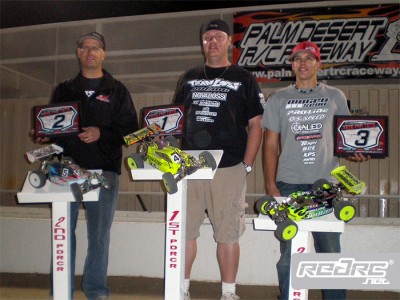 This year's Toys for Tots event was moved back to its original location in Palm Desert, CA. The track has gone through an amazing transformation since its last race a few years ago. Over one hundred and twenty of the fastest racers in California came out to race and help raise money for a great charity including TLR / Novarossi driver Adam Drake. The weather and track conditions were great. In the past the track was loose top soil, but this year it was hard packed and high grip.  The track crew built a great track that was fun for all classes from SCT's to 1/8th buggies and trucks.
In the 1/8th pro buggy class it was TLR / Novarossi's Adam Drake who set the early TQ in the first heat. In the second heat Mugen's Dylan Rodriquez took the TQ honors from Drake by just over one second. The times in round two were a little slower and Rodriquez started on pole with Drake in second. At the start of the final, Drake made a pass in the second turn and never looked back.  Kyosho / AKA driver Mark Pavidis settled into second after a few mistakes from Rodriquez, but Drake was gone putting a lap on third place.  The final finishing order after the twenty minute final was Drake, Pavidis, Rodriquez, Robinson, Drake.
1. Adam Drake – TLR 8ight 2.0/Novarossi/TLR Ultra Digits (green)
2. Mark Pavidis – Kyosho/OS/AKA
3. Dylan Rodriquez – Mugen/OS/PL
4. Jessie Robinson – Mugen/OS/AKA
5. Ronda Drake – Mugen/Novarossi/PL
In the 1/8th pro truck class Drake started on pole with his Novarossi powered 8ight T 2.0.  Second on the grid was Drake's teammate Mikey Bustamante from Las Vegas. Drake led from start to finish and won the final by just over a lap. Bustamante finish second and Rodriquez finished third.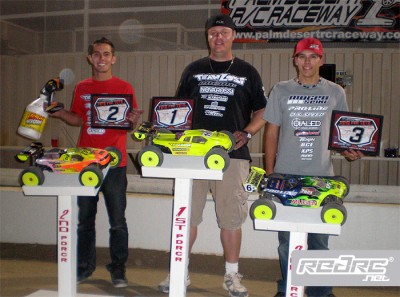 1. Adam Drake – TLR 8ight T 2.0/Novarossi/TLR Kingpins (green)
2. Mikey Bustamante – TLR 8ight T 2.0/Orion MTE/TLR Kingpins (green)
3. Dylan Rodriquez – Mugen/OS/PL
Source: Losi [losi.com]
---