December 10, 2010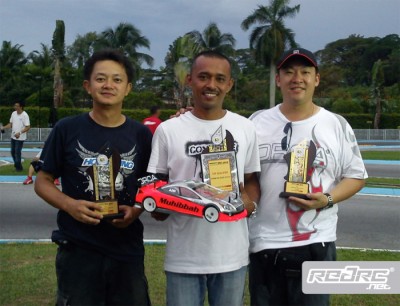 The 3rd and final round of the Malaysia National Championship (MNC) was held under sunny conditions and the fight for the championship was between Mr. Norazam and Mr. Azri, with only three points separating them, with Azri with the advantage. The race saw many drivers converging from all over Malaysia, special mention for Mr. Eric Ma and his friends from Penang, Mr. Lawson and James Ki from Batu Pahat and other places from all over Malaysia, with 35 drivers competing in the Pro Stock 10.5/11.5T alone.
The day continues to heat up, so hot that the tracked started to heat up, reaching 60 deg Celsius at one point. The first qualifiers for this class went on to the track to do their first qualifying run at about 10:30am. The fastest lap of 13.584sec was set by Azwan, completing 21 laps 5:01. 775. When the last group of qualifiers, the fastest lap time has dropped to 12.868sec set by Michael Lo, but lady luck was not by his side and his belt snapped after three and a half minutes, leaving him finishing 7th in that heat. Azri and Norazam battled it out at the front, with Norazam leading until the last minute when Azri finding that little bit more, finishing just 0.044sec ahead of Norazam, with the final time of 23 laps 5:03.915 for Azri and 23 laps 5:03.959 and Mr. Eric Ma, not disappointing, finished also with 23laps 5:06.045. With Mr. Nilai Chong the only other driver that managed to achieve 23 laps with a time of 5:06.800, with Zuki just narrowly missing out the 23 laps 5:00.920.
The second qualifying was not as good for everyone as it was high noon by then and no one was able to better their time, only Michael Lo, Suah and Ah Seng managed to improve on their times from heat 1 but it was far from the fastest times set forth by the two titans in heat 1.
Heat 3, the final heat that we have to try and achieve times that can compete with the times set down from the 1st qualifying run. It was again, Michael Lo that managed the fastest time of all for the qualifying groups, of 12.856sec. Michael was the only driver who managed 23 laps in the final round of qualifying, but the time set was still not able to topple the times set by the two titans in the first round of qualifying. Michael could only manage 23 laps, 5:05.180, third overall, still a good 2 seconds off the pace. This only shows the speed that the two have been able to set in heat 1 of the qualifying.
The top 10 positions is now set, with Azri in the TQ position, Norazam 2nd, Michael Lo 3rd, Eric Ma 4th, Nilai Chong 5th, Zuki 6th, Yap ChewKong 7th, Nik Ejan 8th, Shahrin 9th and the final position going to Suah. Now, let the battle begins.
The first final's starts, and the top 3 has stumbled with Norazam tagging Azri, and showing good sportsmanship, Norazam waited for Azri to resume. Michael Lo's car went side ways due to the track's condition not being too helpful and eventually getting tagged from the rear causing the body shell to tuck in. While Eric Ma made the best use of the situation and took the lead, with Nilai Chong taking the lead from him in the third corner. With only a minor mistake, Nilai Chong went over the curb and went on to the grass allowing Eric Ma to retake the lead. With Azri recovering from the fumble at the start, he is charging up the field eventually taking 2nd, with Norazam having some problems, causing his retirement only after 6 laps. Zuki also made the best use of the situation to go into 3rd and eventually finishing 3rd for the 1st round of qualifying. Nilai Chong also made a good recovery to take 4th and Michael Lo taking 5th eventually.
Round 2, everyone was more cautious now. Azri took the lead from the front while Michael Lo passed Norazam in the starting laps, while Eric Ma also made a pass on Norazam to go into 3rd, but Norazam managed to show that he is second in the overall standing for a good reason and went on to take 4th for round 2. Nilai Chong, went on to take 5th, 1 position lower than he has achieved in round 1.
Round 3, its between Azri and Eric Ma to fight it out for the overall win as they both have achieved 1st in one of the rounds of the finals. From the word go, it was Azri who lead again, with Norazam making no mistakes taking 2nd and Michael Lo following closely in third. Shahrin, also managed to come from 9th to take 4th and Zuki again showing his ability to drive, came up to 5th. It was only a very leisurely drive for Azri, driving his TF-6, powered by an all ORCA internals, he disappeared into the distance clocking the fastest time for the day at 12.777sec, he took the lead by a big margin. Norazam was busy fending off Michael Lo who was using all that is within him to try and make a pass on Norazam. Personally I think that's the most exciting battle of the day with Michael Lo piling on all the pressure on Norazam to force a mistake or make a pass. Try as Michael might, with a slightly faster car, Michael was still not able to do it for the 3+ minutes that was available to him. Norazam is a very very good driver and Michael was not able to pass him at the 5 minute mark, with the 2nd position going to Norazam while Michael can only be content with 3rd.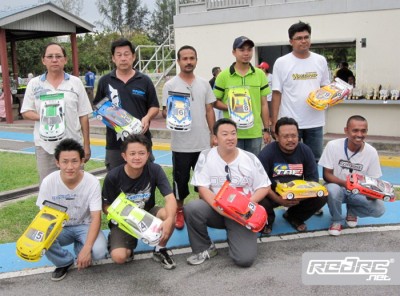 It was all set and the winner and overall Champion for MNC 2010 goes to Azri Amri, with Eric Ma's one 1st position and one 3rd position getting him the 1st runner up position and Michael Lo, with one 2nd and one 3rd, securing 2nd runner up. Norazam taking 4th and Zuki taking 5th.
Final results
1. Azri Amri (TQ)
2. Eric Ma
3. Michael Lo
4. Norazam
5. Zuki
6. Nilai Chong
7. Shahrin
8. Yap ChewKong
9. Suah
10.Nik Ejan
Thanks to Michael Suriawinata for the report.
---